ST. JOHN'S, Antigua, CMC– Offspinner Sunil Narine has opted out of the West Indies side for the test series against New Zealand starting June 8.
Narine has advised the West Indies Cricket Board (WICB) that he would not be available to join the West Indies Training Camp which starts in Barbados June 1, a mandatory requirement to play for the regional side.
The Trinidadian spinner has decided to remain in India to represent Kolkata Knight Riders against Kings X1 Punjab in the finals of the Indian Premier League tomorrow.
"Narine had been in discussion with the WICB and was required to advise the Board by May 24 whether he will join the squad currently in training in Barbados on June 1," said a statement from WICB, released yesterday afternoon.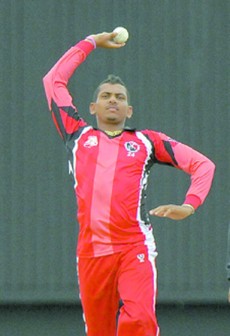 "Narine had indicated by the May 24 deadline that he will join the squad on June 1 as required. Narine subsequently advised the WICB on May 28 that he would not be able to meet the June 1 requirement".
The WICB release says Narine will be considered for selection to the squad for the two Twenty20 Internationals against New Zealand on July 5th and 6th in Dominica.
WICB Director of Cricket Richard Pybus says the guiding principle of the Windies First Policy, recently approved by the Board of Directors, requires players to make themselves available for team preparations.
"The onus of the WICB is to protect the integrity of international cricket at all times," Pybus said.
"International cricket, and specifically Test cricket, is priority and requires dedicated preparation which is integral to team success. The WICB policy requires players to commit to sufficient preparation leading in to a series as part of a culture of excellence".
Narine is one of six players with WICB Grade A contracts for 2014, each worth US$120,000.
The others are Dwayne Bravo, Shivnarine Chanderpaul, Chris Gayle, Darren Sammy and Marlon Samuels.
Around the Web