Scotiabank yesterday renewed its sponsorship of the Guyana Rugby Football Union (GRFU) Teach Them Young Programme.
During a simple ceremony at the rugby field in the National Park, the bank's representatives, George Scott and Rohan Albert ceremoniously presented a cheque to one of the participants of the weekly Saturday Programme.
According to the programme's coordinator, Troy Yhip "the funding is used to offset meals and other things."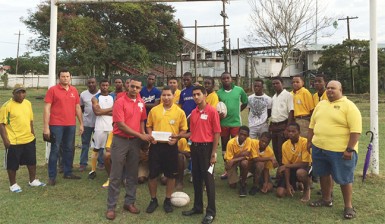 Yhip also thanked Scotia Bank's representatives for the support which is in its fifth year and mentioned that he hopes the good corporate citizenship continues.
The programme which caters for players from as young as 12, kicks off around 9:30 hrs and ends at midday.
Around the Web