US-based national rugby player, Vallon Adams returns to the 15s squad for tomorrow's all-important NACRA Southern Zone fixture versus arch rivals, Trinidad and Tobago.
His addition will provide much needed size against the bigger Trinidadian outfit which pushed around the locals en route to a 20-nil schooling last year at the UWI Campus.
For tomorrow's match-up however the Guyana Jaguars will be at home at the National Park looking to exact revenge and move on to face the winner of the Northern Zone.
"Saturday's game is an important one for us" said National Captain, Ryan Gonsalves at yesterday's press briefing at Thirst Park. "This year is kind of a payback, they got the better of us last year and we are looking forward to a positive result on Saturday.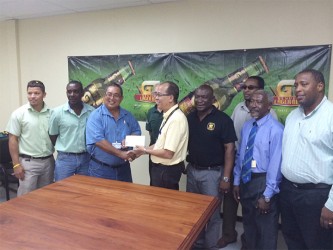 "The team is mentally and physically ready, the winner of any ball game is about who plays well on the day and hopefully we are the ones."
Gonsalves also thanked Banks DIH Limited for being good corporate citizens by sponsoring the match under the GT Beer product.
President of the GRFU, Peter Green mentioned that he was "happy that Banks is on board" and stated his confidence of the local team pulling out a victory.
In brief remarks, Communications Manager of the conglomerate, Troy Peters stated that "we look forward to an exciting match this weekend and it is a pleasure to see international competition returning to the National Park."
In qualifying for the finals, Trinidad defeated Barbados 35-5 while Guyana demolished the Bajans 48-19.
The Trinidadian unit is scheduled to arrive later today. Admission to the venue is free and fans are asked to wear green in support of the locals.
Guyana's team to play Trinidad:
15 Ronald Mayers, 14 Avery Corbin, 13 Claudius Butts, 12 Theo Henry, 11 Carl Lewis, 10 Peabo Hamilton, 9 Ryan Gonsalves, 8 Clive Prowell, 7 Richard Staglon, 6 Felon Thompson, 5 Dwayne Schroeder, 4 Vallon Adams, 3 Jason Tyrell, 2 Allain Crawford, 1 Rondell McArthur.
Replacements 16 Grantley Williams, 17 Rickford Cummings, 18 Cyon Kitt, 19 Kevon David, 20 Leon Greaves, 21 Chris Singh, 22 Jacques Archibald, 23 Delroy Gordon.
Venue: National Park, Georgetown
Kickoff: 16:00hrs
Referee: Brian Zapp (USA)
Around the Web