Guyana Amateur Basketball Federation (GABF) President Nigel Hinds said while funds for the Caribbean Basketball Confederation (CBC) Championships have been trickling in he is still confident that the federation can send both a men's and women's team to the tournament.
"We are optimistic that we will reach our desirable goal. We have 33% there in terms of funding and we are still looking for the other 66%. "Currently we have sponsors that have given their commitment," Hinds said in an exclusive telephone interview with Stabroek Sport.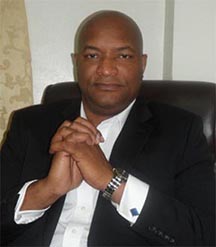 Government's $2M sponsorship pledge has been a boon to the GABF, he said, adding that they have since gotten "more positive responses from the corporate community." Questioned if there is a deadline confirmation for the team's participation in the tournament, the GABF head said the registration fees were paid since last year during David Patterson's presidency and, "the only limiting factor we have is the actual funding for the teams….We see no reason that we cannot do that." The federation is working hard to lessen the likelihood of falling short of revenue to fund both teams. "Obviously if we can't make it, we will send the team that has the best chance of winning which is the male team. That is the most undesirable decision we will have to make because we always believe we should take both the men and women," Hinds said.
However, the GABF head pointed out that every effort is being put into giving the women the opportunity to participate in the championships as it is vital for their development. "They don't have the club structures for the [ladies] and their participation would go a long way to develop the sport….We believe we can do it and we believe the government will assist us with any shortfall."
If funding for them falls short of the target, any money received specifically for the women team's participation would be returned.
When asked about the national team's use of the Cliff Anderson Sports Hall to prepare for the tourney, Hinds said that the entity is currently paying $1000 an hour to use the venue on Tuesdays, Thursdays, Saturdays and Sundays and that they have been trying to resolve this situation, to no avail. He said that the federation wants to host daily practice sessions and has written to both the sport minister and the director of the National Sports Commission requesting such. To date there has been no response, he pointed out.
Around the Web