The nation's cyclists are in for a busy weekend as two events organized by Hassan Mohamed are scheduled to pedal off tomorrow and Sunday.
Tomorrow, P and P Insurance and Consultancy Limited will sponsor its 14th annual cycling event; an 11-race programme at the inner circuit of the National Park.
The feature race is the 35-lap Schoolboys and Invitational which will be contested by the top junior and senior wheelsmen. Other races carded for the day include the BMX age group categories, veterans, uprights and mountain bikes.
National rider, Paul DeNobrega won last year's feature event in one hour, 21 minutes and 09 seconds.
A representative of the entity will be on hand to assist in the presentation of prizes at the conclusion of programme.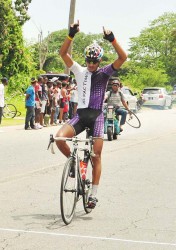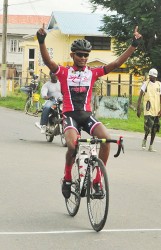 On Sunday, the bikers will take their talents to the open road to compete in the 15th annual Castrol 50-mile road race on the West Demerara.
The event starts at Wales, proceeds to Bushy Park, Parika then returns to the Demerara Harbour Bridge for the finish.
Veterans, uprights and female riders will turn back at the Uitvlugt ground on the upward journey and finish at the Harbour Bridge. This event is being sponsored by Guyoil.
Tomorrow's programme will pedal off at 09:00hrs while Sunday's race will commence one hour earlier.
Time-trial and road race champion, Raynauth Jeffrey is the defending champion of the road race, having won the event in one hour, 55 minutes and 31 seconds. Shaquel Agard won the junior category last year.
Talim Shaw (Veterans Open), Clyde Jacobs (Upright) and Hazina Barrett (Female) are the defending champions of the other categories. (Emmerson Campbell)
Around the Web