KINGSTON, Jamaica, CMC- West Indies off spinner Shane Shillingford has brushed aside suggestions that his bowling performance has been affected by a ban on his doosra deliveries.
Shillingford claimed figures of three for 145 and two for 39 in the first Test against New Zealand at Sabina Park which West Indies lost by 186 runs.
The Sabina Park test was his first since having to undergo ICC-recommended remedial work on his bowling action.
"I don't think not being able to bowl the Doosra has affected me a lot," he said in a post-match interview.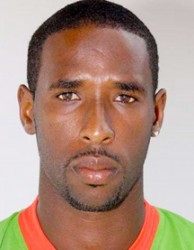 "It's just a matter of being consistent."
The 31-year-old Dominican bowler, who struggled against New Zealand, has been banned by the ICC from bowling the doosra.
This, according to the ICC, is because the delivery, which turns like a leg-break from an off-spin bowling action, forces Shillingford to at times break the allowable 15 degrees bowling arm limit rule.
"I still have some variations, and once your are consistent and patient as a spin bowler you will be successful," said Shillingford.
"It is therefore just for me to continue to work hard, and get into a groove that will allow me to get back to my best."
The second test between West Indies and New Zealand will be played at the Queen's Park Oval, starting on Monday.
Around the Web