Head coach of the men's basketball team Mark Agard said the unit is focusing on tactics and speed as preparations move apace for the upcoming Caribbean Basketball Confedera-tion (CBC) Champio-nships in Tortola, British Virgin Islands.
In an exclusive telephone interview with Stabroek Sport on Thursday, Agard said the last three or four practice sessions have been going well. "The guys are having fun and are really getting into it and doing all the necessary things. The intensity is there and they are learning," he added. "Right now we are focusing directly on the tactics that have to go into the system we are using. We are basically a small team and we have to be fast and keep moving the ball. We cannot stand up and be a target."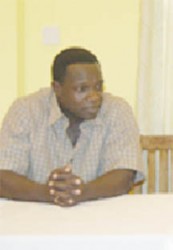 Agard revealed that the team is using screens to get to the basket, among other tactics. "We got very good post up players but because of their height it's going to limit us. Getting to the basket against players who are 6'9 and 6'11 could create an issue so we have to be fast, and get there before other teams can setup," he explained. "Defensively we have to work twice as hard because we are smaller. We can't fully play man-to-man. There is going to be a help situation at all times because we are small team compared to the rest."
Asked to comment on the initial performances of the overseas players, Agard said:"They did very well for themselves and made a serious effort. They brought some interesting features to the practice and gave a good account, roughing it out, raising the competitiveness and doing everything to make the team.
"It's not automatic that they will make the team because we still have to look at the best of what we got. We are looking forward to the other overseas players to further step up the competiveness of the practice," he said. Asked what criteria will be used to select the team, the coach said, "The criteria we are looking at is what you bring to the practice sessions. It's not about you it's about the team and whoever is making that extra effort to play team basketball.   "As long as we are playing team basketball we will see the successes. Some of the players will have to give up their status and play a role in order to help the team to win," he added. The other members of the coaching staff are Darcel Harris and Kevin Joseph from Linden.
Around the Web