President of the Guyana Football Federation (GFF) Christopher Matthias
said yesterday that he was looking to have dialogue with the aim of  completing the GFF Congress before the August 10 deadline as mandated by FIFA.
"We will be having dialogue to resolve the issues and for us to set a date for the GFF congress. FIFA, CONCACAF and CFU will also be informed of that date because they expect us to inform them," Matthias said yesterday.
"FIFA and the GFF also welcomed the fact that Georgetown Football Association (GFA) secretary Odinga Lumumba is willing to work along with the federation and we anticipate to have dialogue with him and his followers at the earliest opportunity," he added.
The GFF Congress of April 26 was halted by a walkout of several sub associations/affiliates who then went ahead and reconvened the Congress where they moved a no confidence motion against Matthias and named first vice president Ivan Persaud as the acting president.
But FIFA handed the disgruntled faction a red card by refusing to recognize the Congress stating clearly that Matthias was still the president.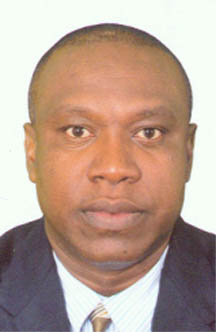 Matthias yesterday told Stabroek Sport that FIFA and CONCACAF have expressed concern about the current state of affairs locally and mandated that their August 10th deadline for the reconvening of the GFF congress must be observed.
Speaking in an exclusive interview via telephone following his return from the 2014 FIFA Congress in Brazil, Matthias said "It would have been expressed at the meeting that FIFA's deadline of August 10th must be adhered to. FIFA would have also expressed concern about what would have transpired at the April 26th Congress in terms of our conduct.
"Their concern is also how genuine are the people we are having dialogue with and who want to govern Guyana football. They are also watching the development of the GCB saga because they made mention of it at the meeting and they expect us to have all our issues resolved professionally before the deadline.
"The governing body also has evidence of people on record saying they don't care if Guyana was to be banned.
"Here you have a motion against a democratically elected president with no reason. Here you have individuals seeking to make misrepresentation to FIFA with regards to the facts of a meeting held on May 15th and people saying basically they don't care if Guyana got banned while declaring at the same time, they would love to see football in Guyana develop," added Matthias.
"Today we don't know what the issues are and FIFA and CONCACAF are expecting we will respect the agreements made at the April 26th GFF Congress and that we will have dialogue with respect and regard for the GFF constitution and each other's portfolio and office," said the GFF boss.
Questioned about possible sanctions for the individuals involved in the May 31st meeting by FIFA or the GFF, Matthias said:"FIFA at the meeting shied away from talking about sanctions. It is possible and probable depending on our conduct subsequent to the FIFA congress. Locally that is not our first opinion".
"We will extend an olive brand to the individuals and sit down and have dialogue to resolve the issues. We will fulfil our constitutional mandate which is to settle any differences which may arise between members and members and/or members and the federation. We simply ask everyone to be honest in their discourse," said Matthias".
According to Matthias:"During the dialogue we will seek to engage what the issues really are and hoping that everyone is kind and honest. If there is anyone who wants to be GFF President, they must be honest and say that and if it's about controlling FIFA's money for whatever purpose and intent let them be honest and say that.
"We at the GFF have been truthful with them on every issue. What we can't accommodate is the making of any accusation against anyone and being unable and unwilling to prove it," added Matthias.
Around the Web