The Guyana Cricket Board (GCB) has resumed its youth development activities with a coaching education programme under the direction of its Territorial Development Officer (TDO) Colin Stuart.
Stuart's work had been halted for one week due to court issues involving the GCB.
According to Stuart, the programme will focus Scotiabank Kiddy Cricket and the Grassroots Cricket.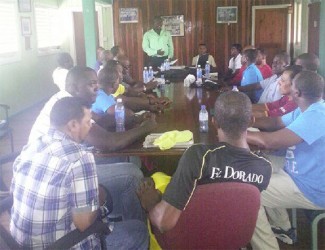 "The Scotiabank Kiddy Cricket will be centered on the activities involving the qualifying schools from the preliminary rounds to the county festival as well as playoffs in Bartica and Upper Demerara," he said.
Grassroots Cricket will be divided into two sections one comprising elite players and the other emerging players.
"The Elite Cluster of Players will focus on players in a specific area (lower East Coast, Georgetown, Corentyne, Essequibo Coast, etc.) for error detection and correction," said Stuart.
"These players will be selected by coaches and selectors who will train them on a daily basis for one and a half hour for the period of June-September," he added.
Stuart said that the Grassroots Emerging Players will focus on players' development.
"These players in most cases would have already been involved in previous GCB activities in both sections of the Grassroots Cricket.
"The participating age group will be 11-17 years while the GCB will be using the Ministry of Education school districts to select the players."
Stuart said that Grassroots clinics will commence from the second week after school closes in July.
Teams will be chosen from the clinic to compete in the Scotiabank Progression One Tournament which will be governed by the conventional rules of cricket.
According to the TDO, the Kiddy Cricket programme went well during the first half of the year and the organisers have identified areas for improvement.
Players who have been identified during the programme will be given more overall training to hone their talent while special attention will be paid to developing their mental alertness, physical fitness and technical aspects of the game.
The former West Indian player also said he is seeking to engage the coaches and mobilize them into planning and organising aspects of the training to foster unity. The West Indies Cricket Board (WICB), GCB and Scotiabank are all pleased that the programme is getting a lot of support, he noted.
Around the Web