The region's governing body for rugby, North America Caribbean Rugby Association (NACRA) will assist Guyana's 26-member contingent with airfare and accommodation expenses for the finals of the NACRA 15s championships in Atlanta, Georgia, USA.
However, the union still needs $2M more to offset the cost of visa applications for eight members of the contingent and other miscellaneous expenses.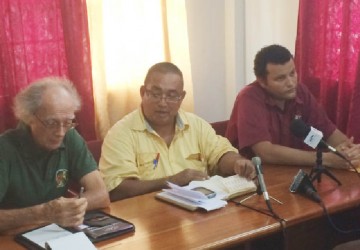 During a media briefing at GOA's headquarters Monday, president of the Guyana Rugby Football Union (GRFU), Peter Green told the media that the union plans on appealing to NACRA to have the match which was scheduled to kick off on Sunday pushed back until the visa wrinkles are ironed out.
"I hope that happens because I am not aware that we can just walk into the US Embassy and get visas in time for the 22nd" said Green.
"It means that we will have to approach NACRA to give us some more time, we will appeal to NACRA to put the game back until we can confirm the appointments of the players and set the game for the earliest weekend possible after their appointments.
Green also highlighted that the union will be "Approaching major sponsors and carrying out fund raisers." The GRFU also "intends to ask our beloved president, an aficionado of sports in Guyana to treat us the same as he has done for other sports worthy of attention."
The GRFU head added that "We will ask the government to assist us in the form of tax rebates for traveling and departure tax which is in the vicinity of $90US per person. The cost had been calculated in the vicinity of $8M, however after several negotiations I'm excited to report that the governing body NACRA has agreed to cover airfare expenses of the 23 players and the three officials to Atlanta, with that our workload with procuring the remainder of funds has become easier."
"At the same time we will be pushing NACRA to reimburse us the cost of the visas."
So why is the union acting on such short notice?
Vice President of the GRFU, Mike McCormack pointed out that it was only on Saturday the opponent of the national team was known following USA South's 34-30 victory versus the Cayman Islands.
"The ramifications of this means simply that we have to go to play USA at home since they are the higher ranked team and playing them depends on how quickly the embassy can accommodate us " McCormack highlighted.
On the road to the finals, Guyana drubbed Barbados 48-19 and dethroned Southern Zone champions, Trinidad and Tobago 15-8 and according to Green the team climbed the rankings following the victories.
"Guyana has moved from the position of 60 out of 154 countries to our current position of 53, we don't intend to slow down now, we have one more hurdle to pass and we intend to pass that."
Around the Web