GABF reduces male squad to 18
- Coach says team needs versatile players
The Guyana Amateur Basketball Federation (GABF) has officially reduced its 2014 Caribbean Basketball Confederation (CBC) Championship male squad to 18 players.
Originally 34 players drawn from the Georgetown Amateur Basketball Association (GABA), Linden Amateur Basketball Association (LABA) and Berbice Amateur Basketball Association (BABA) along with overseas-based players were in training at the Cliff Anderson Sports Hall and following the weekly assessment by the coaching staff the 18 players were arrived at.
The initial players shortlisted are Rawle Marshall, Dwayne Roberts, Akeem Kanhai, Andre DeFlorimonte, Andrew Ifill, Keron McKenzie, Richard Hall, Shane Webster, Ray Victor, Ryan Gullen, Gordon Klaiber, Ryan Stephaney, Dave Causeway, Chris Williams, Tyler Persaud, Royston Siland, Kevin Creppy and Shelroy Thomas. It will be further whittled down to the official 15 member touring team shortly.
Questioned about the criteria used to shortlist the team, head coach Mark Agard during an invited comment said: "We needed versatility and we needed players who are going to play three different positions at any given time. We needed players who are interchangeable".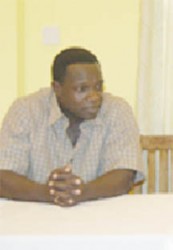 "We selected players who not only can shoot the ball but who also can pass and rebound. The selection was not based on specialty but more on complete all-round players. It's not that we don't have specialists in the team, we just went more for versatility," he said.
"The calibre of players and teams we are coming up against are capable of doing anything within the proximity of playing basketball which is pass, shoot and the whole nine yards. This is some information we gathered from the last time.
"Now we are going to focus more on the team system. Because we have a size problem, we have got to be faster and quicker and control the tempo of the game. We can't afford to play a half-court game because we are shorter. We have to play an open court game."
Asked about the confidence in the initial shortlisted collection, Agard said: "I am very much confident in the players selected. They have been putting in the work and at times they play good basketball and I see glimpses of glory in them".
"We don't have the complete chemistry with everyone but I think once we gel and get the chemistry better, we will do well. I am pretty much confident in them and I know I will get the work out from them," added Agard.
The male team is set to leave on June 29 for the British Virgin Islands. Guyana's best finish in the event was a silver medal placing in the 1994 edition as the host nation. The female side is expected to be shortlisted shortly.
Most Read This Week