LONDON, (Reuters) – The mayhem created by an Australian firecracker the previous evening was continued in brutal fashion by Bulgarian Grigor Dimitrov yesterday as he annihilated defending Wimbledon champion Andy Murray.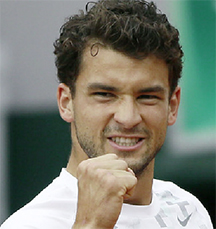 With the dust still settling on 19-year-old Nick Kyrgios's fourth-round demolition of world No.1 Rafael Nadal, Dimitrov caused the second seismic shock on Centre Court in the space of 24 hours by outclassing Murray 6-1 7-6(4) 6-2.
The Briton's shattering defeat means that two of the so-called Big Four in men's tennis have departed in quick succession from the grasscourt grand slam, both walloped by members of a brash new generation of big hitters with no fear and scant regard for reputations.
"Everyone's starting to get better," a downbeat Murray said. "The younger guys are now obviously becoming more mature and improving all the time."
It's one thing surrendering your crown, but to suffer such a remorseless beating on your own turf in front of Prince William and his wife, the Duchess of Cambridge, was especially galling.
Yet Murray said: "It's not the toughest loss of my career; that was losing in the final here in 2012 (against Roger Federer).
"I've had a good run here at Wimbledon over the past few years. Obviously it's disappointing for it to end like that."
Novak Djokovic, the man Murray beat a year ago to end Britain's 77-year wait for a men's Wimbledon champion, nearly went the same way before restoring order by digging himself out of a hole to beat dangerous Croatian Marin Cilic 6-1 3-6 6-7(4) 6-2 6-2 and set up a clash with Dimitrov.
UNWELCOME DISTRACTION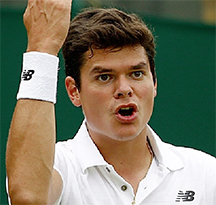 The top seed, who was playing on Court One, admitted that the unfolding drama in Murray's match was an unwelcome distraction.
"(There was) so much noise coming from the Centre Court," the Serb said.
The Murray contest was one everyone at Wimbledon wanted to watch, Djokovic said, adding: "I said to the chair umpire, 'Let's just stop the match, put it live on the big screen and let's watch it till they're done. It's going to be better for all of us'."
Seven-times champion Federer may be 32 but will be eager to prove that he can still teach the young guns a thing or two after he advanced to his ninth Wimbledon semi-final with a 3-6 7-6(5) 6-4 6-4 victory over fellow Swiss Stanislas Wawrinka.
He will face 23-year-old Canadian Milos Raonic, who ended the remarkable run of 144th-ranked wildcard Kyrgios 6-7(4) 6-2 6-4 7-6(4).
The Australian's efforts in saving nine match points to subdue Richard Gasquet and then slay Nadal finally caught up with the teenager as Ranoic blasted down his 39th ace to become the first Canadian man to reach the last four here since Robert Powell in 1908.
With cracks beginning to show in the top echelons of the men's game, Canada's Eugenie Bouchard and Romania's Simona Halep heightened the sense of a changing of the guard in women's tennis as both reached the semi-finals.
Bouchard, 20, beat Germany's Angelique Kerber 6-3 6-4 while Romanian third seed Halep, 22, continued her fantastic year to overcome last year's runner-up Sabine Lisicki 6-4 6-0.
They will face-off today, when both will become the first women from their respective countries to play in a Wimbledon semi-final.
Of the last four standing in the women's draw, only 2011 Wimbledon champion Petra Kvitova has tasted grand slam glory. She now faces fellow Czech Lucie Safarova.
Comments

A resurgent Guyana Amazon Warriors side completed a comprehensive seven wickets victory over the out-of-sorts St Lucia Stars to cruise to their second consecutive home win in the Caribbean Premier League (CPL) at the Guyana National Stadium, Providence, last evening.

BARCELONA,  (Reuters) – Barcelona are suing Neymar for 8.5 million euros ($10.00 million) for breach of contract as they want him to return the bonus he was paid when he signed a new five-year deal just nine months before joining Paris St Germain, the Spanish club said yesterday.
(Reuters) – Cristiano Ronaldo will have to serve his five-match ban for pushing a referee after the Spanish sports court (TAD) rejected Real Madrid's appeal against the length of the suspension, Spanish media reported yesterday citing court officials.

A 90th+3 minute strike secured Western Tigers a 1-1 draw with Georgetown Football Club (GFC), when the Corona Beer Invitational Football Championship continued on Monday at the GFC ground, Bourda.

Despite concluding the CONCACAF u15 Boys Championship with only one victory from four matches, Guyana Football Federation (GFF) President Wayne Forde said, he is delighted with the team's overall performance.