Team Roraima's, Marlon 'Fishy' Williams showed his fine form in yesterday's feature 30-lap event in the CARICOM Day 'Wheat Up Classic' in a highly tactical finale.
Showing tenacity and grit, Williams shrugged off the challenges of Robin Persaud (2nd) and the heroic solo riding of junior star cyclist, Michael Anthony (3rd) to emerge winner of the NAMILCO-sponsored criterium event.
The win at the breezy Seawall Bandstand offered Williams a vital rebound from his performances during last month's National Cycling Championships in which he finished second in both the Time Trials and the Road Race.
Yesterday's main event of the 12-race programme started off as scorching as the prevailing conditions.
Enzo Matthews and Jaikarran Sukhai were in high gear from the smoke of the pistol and were the early pacesetters until Anthony staged a solo attack in the sixth lap.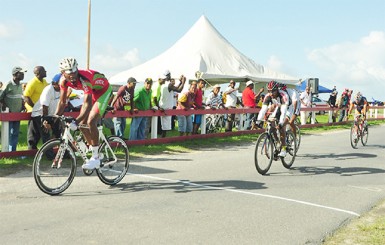 The junior rider encouraged by the vocal supporters rode valiantly and opened up a 19-second lead by the 10th lap on the pack as the cyclists sat back with race favourite, Williams who also played the waiting game.
Two laps later, the lead ballooned to 30 seconds as Williams' supporters wondered when Guyana's Commonwealth Games representative would up the ante.
In the ensuing lap, Williams, Persaud, Paul DeNobrega, Raymond Newton and Akeem Wilkinson changed gears and went in pursuit of the race leader.
The chase pack finally connected with a tiring Anthony seven laps later but the teenager caught a second wind and attacked again, opening up a lead which was 26 seconds at one point.
But the work horse Williams with Persaud on his wheel closed the gap on Anthony and whittled the lead down to five seconds with three laps to go.
Williams and Persaud reconnected with Anthony as DeNobrega also joined the party.
The quartet were still together at the bell lap and all the way up to 150m from the finish.
At this point, Williams rose from the saddle and caused a domino effect as a thrilling four-man sprint followed. Persaud and the other wheelsmen tried their best but Williams blessed with superior sprinting ability was able to easily stave off their challenges.
Besides the 'Wheat Up Classic' trophy, Williams also rode off with a sprint token. He also won the Points Race ahead of DeNobrega and Anthony.
Anthony would find some consolation since he pocketed 11 of the 15 sprint prizes and the third place trophy. The 17-year old also won the Junior/Category 4 event.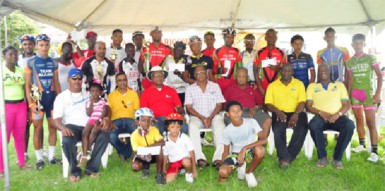 Quick Results
12-14 Juveniles
Romello Crawford
Raphael Leung
Daniel Vossey
Category 1-3
Warren McKay
Marlon Williams
Paul DeNobrega
Junior/Category 4
Michael Anthony
Mark Harris
Mario King
Veterans Under-50
Ralph Williams
Ian Jackson
Thuran Harris
Veterans Over-50
Linden Blackman
Virgil Jones
Monty Parris
Points Race Open
Marlon Williams
Michael Anthony
Paul DeNobrega
Win and Out
Robin Persaud
Romello Crawford
Marlon Williams
Mountain Bikes
Ozia McAlley
BMX 6-9 Years
Jeremiah Harrison
Shay Sue-Hang
Alex Leung
BMX 10-14 Years
Ammo Gomes
Timothy Gayraul
BMX Open
Raphael Leung
Adrian Sharma
Keron Rutherford
Females 5 Laps
Toshwanna Doris
Crystal Lambert
Deancae Welch
Comments

A resurgent Guyana Amazon Warriors side completed a comprehensive seven wickets victory over the out-of-sorts St Lucia Stars to cruise to their second consecutive home win in the Caribbean Premier League (CPL) at the Guyana National Stadium, Providence, last evening.

BARCELONA,  (Reuters) – Barcelona are suing Neymar for 8.5 million euros ($10.00 million) for breach of contract as they want him to return the bonus he was paid when he signed a new five-year deal just nine months before joining Paris St Germain, the Spanish club said yesterday.
(Reuters) – Cristiano Ronaldo will have to serve his five-match ban for pushing a referee after the Spanish sports court (TAD) rejected Real Madrid's appeal against the length of the suspension, Spanish media reported yesterday citing court officials.

A 90th+3 minute strike secured Western Tigers a 1-1 draw with Georgetown Football Club (GFC), when the Corona Beer Invitational Football Championship continued on Monday at the GFC ground, Bourda.

Despite concluding the CONCACAF u15 Boys Championship with only one victory from four matches, Guyana Football Federation (GFF) President Wayne Forde said, he is delighted with the team's overall performance.