James, George qualify for 400m semis today
-Adam Harris crashes out of 100m event
Team Guyana suffered mixed fortunes on the track, the court, the rifle ranges and the ring for day five of the ongoing Commonwealth Games is Glasgow, Scotland.
Yesterday, quarter milers Stephan James and Winston George qualified for today's semifinal after placing second in their respective heats.
The US-based James clocked 46.39s behind Bahamas' Chris Brown while 2012 Olympian, George recorded a time of 46.25s. His heat was won by Trinidad and Tobago's Jarrin Solomon.
James and George will compete in tonight's semis from 20:18hrs.
While the one lap athletes qualified, Guyana's fastest man, Adam Harris crashed out of the 100m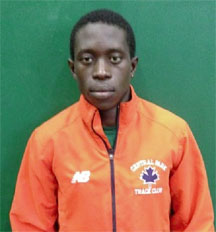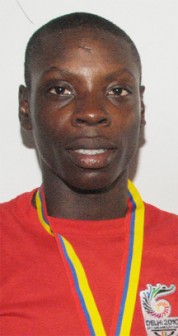 after running a pedestrian 10.23s, good enough for fifth in his semifinal.
Squash
Alexander Arjoon lost in the Men's Consolation Final to Manda Chilambwe of Zambia by three sets to one (5-11, 11-6, 11-9, 11-8).  He will be joined by team mate Sunil Seth at 11:30 AM to play the Papua New Guinea pair of Moreaina Wei and Schubert Maketu in a men's doubles encounter.
At 12:30, Arjoon will join Nicolette Fernandes to face Australia Cameron Pilley and Kasey Brown in the mixed doubles.
Boxing 
Welterweight, Eon Bancroft won against Sri Lanka's Tulani Mbenge to move on to the quarter finals tomorrow. However middleweight Dennis Thomas lost Northern Ireland's Connor Coyle.
Swimming 
Onika George swam close to her personal best in the 50m backstroke, recording a time of 34.64 which was only good enough for eight place in the second heat. That was the last swimming event Guyana will participate in for the remainder of the games.
Table Tennis today
In table tennis, the men's and women's singles event will get underway today with Trenace Lowe up against Sri Lanka's Hansani Piuluma and plays a second game against Fathimath Jumana Nimal of Maldives at 2:30 PM.  Natalie Cummings will play Kenyan Jinta Azad Kumar Shah at 11:15. and her second game is  at 1 PM against Charlotte Carey of Wales.  Chelsea Edghill faces Botswana's Magdeline Tshepiso Rebatenne at 5:45 PM and Ghana's Cynthia Kwabi at 7:30.  Among the men, Christopher Franklin faces the player Jersey's Craig Gascoyne at 11:50 AM, and plays again at 1:35 against Malaysia's Muhd Shakirin Ibrahim. Idi Lewis plays Sri Lanka's Denesh Deshappriya at 6:30 and New Zealand's John Cordue at 8:05.
Rifle Shooting 
After day two in shooting, Lennox Braithwaite is in 14th place with 251-27v, and Mahendra Persaud finished the day in 22nd with a score of 248-20v.  Today is the final day of the Queen's Prize Individual finals.