KINGSTON, Jamaica, CMC – Andre Russell blasted a huge six off the last ball of the game to crown an amazing half-century, as Jamaica Tallawahs snatched an exciting six-wicket victory over Guyana Amazon Warriors, in the Caribbean Premier League here yesterday.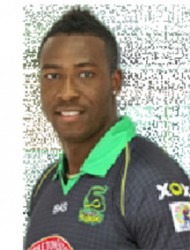 In a rematch of last season's final, the defending champions Tallawahs chased down 138 to pull off a win that seemed unlikely when they slipped to 62 for four in the 14th over, with the required run rate climbing to nearly 14 an over.
Russell, however, changed the course of the game with an amazing, unbeaten 58 from just 24 balls, with three fours and six towering sixes.
His most important blows came from the last two balls of the Sabina Park contest, with Tallawahs needing ten to wins, after seamer Jimmy Neesham had conceded just three runs from the first four deliveries of the final over.
Russell creamed the fifth ball, a full toss, over cover for four and with six needed from the final delivery, smote a length ball several rows back over long-on, to ignite frenzied celebrations among the packed house.
The right-hander put an invaluable 76 for the fifth wicket with Owais Shah who struggled for his unbeaten 21 from 28 deliveries, including a six.
Pakistani off-spinner Mohammed Hafeez bowled brilliantly, taking two for 13 from his four overs to strangle the Tallawahs top order and account for captain Chris Gayle for 22 from 23 balls and Jermaine Blackwood for six.
Opener Chadwick Walton had earlier skied a return catch to left-arm seamer Krishmar Santokie to fall for five in the third over with the score on 15, and when Australian Adam Voges holed out in the deep off off-spinner Steven Jacobs for 12 in the 14th over, Amazon Warriors were fancying their chances.
Entered Russell to transform the game. He cleared the ropes at mid-wicket with left-arm spinner Veerasammy Permaul for his first scoring shot and Shah joined him two balls later, whipping the bowler over long on for another six, as the over leaked 16 runs.
Russell then ripped apart fast bowler Ronsford Beaton in the 17th over that went for 19 runs, smashing sixes from the first two balls before clipping a stray one backward of square for four.
With 27 needed from the last two overs, Russell drove Santokie straight for four and then lifted his countryman over long-on for a massive six, before staging his heroics in the final over.
Earlier, Amazon Warriors stuttered to 137 for nine off their 20 overs after they were sent in, with Neesham top-scoring with 35 and opener Lendl Simmons getting 34.
Fast bowler Jerome Taylor was once again superb, taking thee for 14 from his four overs while seamer Rusty Theron finished with two for 38.
Amazon Warriors failed to find partnerships, with a 40-run, sixth wicket stand between Neesham and Chris Barnwell (23), being their best.
 Scoreboard
AMAZON WARRIORS
L Simmons c Russell b Miller 34
M Guptill b Vettori 15
Mohammad Hafeez c wkp Walton b Bernard 5
*+D Ramdin c Russell b Taylor 3
J Neesham c Russell b Taylor 35
L Johnson c Shah b Russell 3
C Barnwell c wkp Walton b Taylor 23
V Permaul b Theron 1
S Jacobs b Theron 0
K Santokie not out 5
R Beaton not out 0
Extras (b4, lb4, w4, nb1) 13
TOTAL (9 wkts, 20 overs) 137
Fall of wickets: 1-18 (Guptill, 3.3 overs), 2-23 (Mohammad Hafeez, 4.1), 3-59 (Ramdin, 9.2), 4-65 (Simmons, 10.5), 5-77 (Johnson, 12.3), 6-117 (Barnwell, 17.2), 7-126 (Permaul, 18.4), 8-130 (Jacobs, 19), 9-132 (Neesham, 19.3).
Bowling: Bernard 3-0-25-1, Vettori 4-0-16-1, Theron 4-0-38-2 (w3), Taylor 4-0-14-3 (nb1), Miller 2-0-17-1, Gayle 1-0-9-0 (w1), Russell 2-0-10-1.
TALLAWAHS
+C Walton c & b Santokie 5
*C Gayle b Mohammad Hafeez 22
J Blackwood b Mohammad Hafeez 6
A Voges c Simmons b Jacobs 12
O Shah not out 21
A Russell not out 58
Extras (lb4, w10) 14
TOTAL (4 wkts, 20 overs) 138
Did not bat: D Bernard, D Vettori, J Theron, N Miller, J Taylor.
Fall of wickets: 1-15 (Walton, 2.5 overs), 2-39 (Gayle, 7.3), 3-44 (Blackwood, 9.2), 4-62 (Voges, 13.2)
Bowling: Santokie 4-0-26-1 (w2), Jacobs 3-0-18-1 (w1), Beaton 3-0-26-0   (w2), Mohammad Hafeez4-0-13-2 (w2), Neesham 4-0-31-0 (w2), Permaul 2-0-20-0 (w1).
Result: Jamaica Tallawahs won by six wickets.
Points: Jamaica Tallawahs 2, Guyana Amazon Warriors 0.
Man-of-the-Match: Andre Russell.
Toss: Jamaica Tallawahs.
Umpires: Patrick Gustard, Peter Nero; TV – Nigel Duguid.
Around the Web