Score's Even proved once again yesterday why it is Guyana's premier thoroughbred.
The seven-year old grey gelding cruised to a gate to pole victory in the feature A and Lower event at Kennard's Memorial Emancipation meet beating Bridle Stone Corner by about 10 lengths.
The pre race hype trampled the competition Score's Even got throughout the eight furlong event.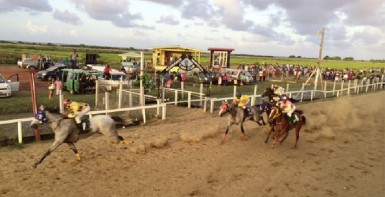 This one was over early. In a scorching 1m:58.55s to be exact.
Sent off as the betting favourite, Score's Even starting from the near post faced little opposition.
Despite fetching an eye popping 130lbs, the Dennis DeRoop owned steed already had a five-length lead  at the half mile pole.
Champion jockey, Randolph Richmond then allowed the powerful steed to cruise on the far turn before he drew off in the homestretch to seal the comprehensive win which was worth an appetizing $1M.
Bridle Stone Corner then trotted off with half that amount. Run Na Na Run was third on a beautiful day in the six-horse field.
Meet Summary
Race 1 (J3 Maiden)
Royal Stallion ($150,000)
Dance For Gold
Sunny Silence
Mag Line
Race 2 (G3 and H & Lower Open)
Battle Hymn ($300,000)
Cat Massiah
Super Bowl
The Legend
Race 3 (J1 and Lower)
Royal Cash ($200,000)
Smarty Light
The Road is Mine
Speed Vision
Race 4 (D3 and Lower)
Perfect Wind Storm ($500,000)
Princess She Is Not
Church House
Run Na Na Run
Race 5 (G1 and Lower)
Battle Hymn ($320,000)
Red Cloud
Another Jet
Monsoon
Race 6 (I and Lower)
Cat Massiah ($250,000)
Mary Ann
Part Time
Lady Secret
Race 7 (A and Lower)
Score's Even ($1M)
Bridle Stone Corner
Run Na Na Run
The 'Sport of Kings' continues on Sunday at the Rising Sun Turf Club.
Comments

(Reuters) Three USA Gymnas-tics board members resigned yesterday in the wake of its former team physician sexually abusing female gymnasts, a step the organization said would support its reform efforts.

(Reuters) – The presidents of world soccer and world athletics are set to be snubbed by the International Olympic Commit-tee (IOC) next month when the body is likely to again overlook them for membership, a source told Reuters yesterday.

BRIDGETOWN, Barbados, CMC – The Vivian Richards Cricket Stadium in Antigua will host the final of the Women's Twenty20 World Cup later this year, the International Cricket Council confirmed yesterday.

By Charwayne Walker When Tagenarine Chanderpaul reached three figures against Barbados at the Kensington Oval in the ninth round of the Cricket West Indies Digicel-sponsored Regional four day championships earlier this month, the son of the legendary Shivnarine Chanderpaul had placed himself and his father on an elite fathers and sons list who had the distinct honour of scoring a century at the Regional First Class Level.

By Romario Samaroo Guyana Jaguars Head Coach, Esaun Crandon said Sunday that excellent preparation and planning were the factors mainly responsible for the Guyana Jaguars winning the just-concluded Cricket West Indies (CWI) Digicel Regional four-day competition.