The penultimate event of the Guyana Tennis Association (GTA) 2014 calendar, the GTA/Trophy Stall doubles tournament will commence next Saturday and run until December 14.
According to a GTA release, the tournament will be conducted over three weekends starting from November 29th.
Matches throughout the competition are scheduled to be played at two venues. Primarily the National Racquet Centre will be utilized on Saturdays and Sundays from 9:00am to 5:00 p.m. while Le Ressouvenir Tennis Club will also be used from 5:00pm to 9:00pm on weekends and some weekdays.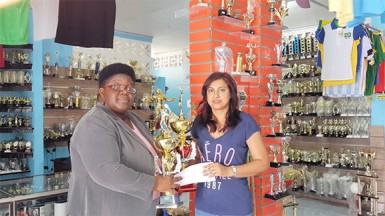 President of the GTA Grace McCalman at the launch said that she recognized the unwavering support of the Trophy Stall enterprise, not only to tennis but to sports in general and reminded Ms. Sunich that the launching of this tournament in 2010 recreated significant interest in competitive doubles. Players, both male and female, who were considered novices at that time, are now confidently venturing into the Open categories. Additionally, McCalman expressed her optimism about the expected quality of matches even though she lamented the loss of several competing veteran doubles players over the years as club facilities declined and players migrated. The majority of great doubles players generally emerge from active recreational clubs especially when there are lighted courts for extended play late in the evenings, she said. Despite this obvious limitation, there has been steady improvement in doubles among juniors and novices over the last few years as clubs continue to make efforts to rejuvenate their membership added the GTA boss.
In the highly anticipated men's Open doubles category, reigning GBTI Open doubles champions Jason Andrews/Anthony Downes are expected to lead the field, but there is word of a possible teaming up of top junior Daniel Lopes with former men's champion Phillip Squires to create a potent force for net play.
Other significant pairs that will take part are Leyland Leacock/Nicholas Fenty who were the finalists last year and the Glasgow brothers. These exciting match ups promise to make this fifth edition of the tournament, the most exciting and entertaining one yet.
Tournament coordinator Gavin Lewis can be reached at 656-3449. Entrance forms which have been distributed at clubs are due latest November 26th. All players are urged to participate and attend the Opening Ceremony scheduled for 8:45am on November 29th.
Five categories will be contested, the ladies Open, men's Open, men's Over 35, men's Over 45, mixed and novices medley doubles.
Around the Web