BENONI, South Africa, CMC – In-form opener Devon Smith and middle order batsman Marlon Samuels plundered the bowling as West Indies piled up 508 in their first innings against a South African Invitational X1 on the second day of their three-day tour match at Willowmoore Park here yesterday.
Samuels, 103 overnight, powered his way to 203 before retiring out while Smith who resumed the second day on 82, carved out 174 before also retiring out as the West Indies stamped their authority on the match after dismissing the homeside for 125 on the opening day.
None of the bowlers were able to trouble either Samuels or Smith who picked up from where they left off and again dominated the day's play by sharing a solid third wicket stand that produced 360; adding 172 to their century stand posted on the opening day.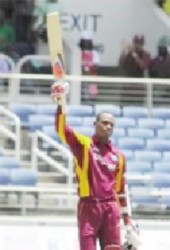 Smith reached triple figures early in the morning session as the partnership prospered.
His Jamaican team mate reached 150 before he himself got to 150 and later Samuels arrived at his 200 milestone in a frustrating day for the South African bowlers.
Samuels reached his double century in 261 minutes facing 176 balls and hitting 32 fours and four sixes while Smith, who counted 25 boundaries and a six, occupied the crease for 420 minutes and faced 277 balls.
Shivnarine Chanderpaul was caught for a second-ball duck, a victim of left-arm spinner Tabraiz Shamsi who claimed the most wickets, three for 106.
Medium-pacer Aviwe Mgijima picked up two for 49 and Rory Kleinveldt 3 for 69
Denesh Ramdin occupied the crease for about two and a half hours scoring 48 but neither Jermaine Blackwood nor Assad Fudadin were among the runs as the West Indians were bowled out for 508.
The Invitation side were 17 without loss in their second innings when bad light stopped play.
With a day left in the match the West Indians will be hoping to exploit bowling and batting advantages as part of their preparations before the first test begins next Wednesday.
Scoreboard
SOUTH AFRICAN INVITATION X1 1st innings 125
WEST INDIES 1st innings (217/2 overnight)
K Brathwaite lbw b Kleinveldt               12
D Smith retired out                  174
L Johnson c van Zyl b Kleinveldt            0
M Samuels retired out                 203
S Chanderpaul c Kleinveldt b Shamsi         0
J Blackwood     c Kleinveldt b BE Hendricks     4
D Ramdin*†      not out                 48
A Fudadin         c †Cloete b Mgijima         10
C Walton           b Mgijima             12
J Holder            lbw b Shamsi             0
S Cottrell          lbw b Shamsi             1
Extras (b13, lb16, w3, nb12)             44
TOTAL (10 wkts, 115.1overs)             508
Fall of wickets: 1-34, 2-35,3-395,4-395,5-416,6-443,7-469,8-499,9-502,10-508.
Bowling: B Hendricks 18.4-6-65-1 (w1), Dupavillon 14-2-56-0 (w1), Engelbrecht 19-2-87-0 (w1, nb2), Kleinveldt 15.2-2-69-2 (nb8), Shamsi 26.1-4-106-3, Mgijima 17-2-49-2 (nb1), D Hendricks 5-0-47-0 (nb1)
South African Invitation XI 2nd innings
G Cloete†         not out                     9
D Hendricks*    not out                     8
Extras                                                     0
Total    (0 wickets; 6.2 overs)                  17
Bowling: Taylor 3.2-0-9-0, Cottrell 3-1-8-0.
Position: West Indies lead by 366.
Toss: South African Invitational XI.
Umpires: L Gcuma, A Paleker.
Around the Web