Over $2.4M in cash and prizes will be up for grabs when the second annual Upper Demerara Football Association (UDFA)/Banks DIH Limited GT Beer 'Supa 16' football tournament kicks off tomorrow with two exciting matches at the Mackenzie Sports Club ground.
Defending champions Winners Connections will be hard pressed to safeguard their title against the calibre of Topp XX, Milerock Football Club, Net Rockers, Eagles United, Botofago, Peace Makers, Kwakwani Strikers, Vasco, Silver Shattas, Hi-Stars, Mahdia FC, Block 22 Goal Getters, Snatchers, Amelia's Ward Panthers and Blue Berry Hill.
UDFA President Collis Gifth said the opening ceremony will start at 6.30pm with a march past by the competing teams and a feature address and kick-off by Public Service Minister Dr Jennifer Westford. Remarks will also be made by representatives of Banks DIH Limited, the GFF Normalization Committee, the Region Ten Administration and Gifth, a press release said.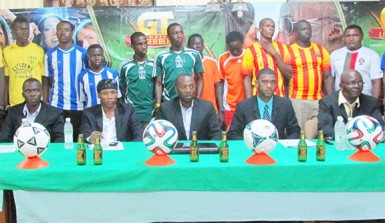 The first game of the double header card will bring together Linden Masters against an East/West Combined team. Blue Berry Hill will square off against Vasco in the feature match. Matches will be played on December 17, 19, 22, 25, 26 and 28 with the grand final and third place play-offs set for January 1, 2015. All matches will be played at the MSC ground.
Teams will be contending for a prize valued about $2.4 million which includes the winners' top prize of $1 million plus the GT Beer Trophy. The second placed team will receive $600,000, third place $400,000 and fourth place finishers $200,000 with a trophy each. There will also be prizes for the Most Valuable Player, Most Goals scored, Best Goalkeeper, Most Disciplined team, Best Defender and Best Coach.
The tournament was launched last Saturday at the Watooka Complex with the competing teams, officials, UDFA executives and officials of Banks DIH Limited.
Around the Web