The top brass of the Guyana Boxing Association (GBA) and president of Suriname's Boxing Association, Remie Burke held talks on Wednesday about the integration of the Guianas.
The discussion centred around laying the foundation of an Inter Guiana Games boxing tournament involving Guyana, Suriname and French Guiana. The tournament should get off the ground next year. This is according to president of the GBA, Steve Ninvalle.
"Both parties agreed on the establishment of an Inter-Guiana Games boxing competition. This is away from the National Sports Commission Inter Guiana Games but it will also include Guyana, Suriname and French Guiana."
Ninvalle added: "We outlined to him that Guyana is willing to assist Suriname in whatever way we can but we must first have that request from Suriname.
We indicated that we will be writing to him the latest next Friday about actually hosting the first of those competitions among the three countries sometime next year."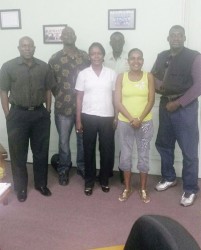 Burke will then indicate a time that is good for Suriname and French Guiana.
The GBA head disclosed that the first tri-nation event will only involve novices in order to have a level playing field.
"Suriname is now coming back into boxing and so is French Guiana and they of course would not be able to compete with our fighters in terms of the level of skill, so at the inaugural event we will keep it at the novice level."
Burke then requested that the local association explore the possibility of sending a coach and referee/judge to assist officials in the Dutch speaking state. Ninvalle obliged.
"We have already said that our national coach (Wincel Thomas) is willing to go across and assist in whatever way possible.
Before the Inter Guiana competition we can have maybe one or two of our coaches to go there and get their group in line also so if you ask me it was a very fruitful meeting and we understand some of the deficiencies that Suriname may have we also have certain deficiencies but with this sort of corporation we can make an impact for the sport. Nivalle said.
Also present at the discussions on Wednesday were GBA's technical and tournament director, Terrence Poole, Thomas head of the referees/judges commission, Ramona Agard and secretary of the referee/judges commission, Nicola Yhap. (Emmerson Campbell)
Around the Web