(Reuters) – Skipper Steve Smith scored a century and Mitchell Johnson a quick-fire 67 as Australia battled their way to 351 for six at lunch after the loss of two early wickets on the third day of the second test against India in Brisbane last night.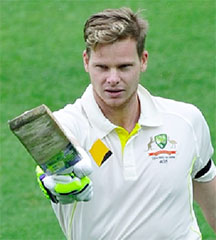 Australia resumed on 221-4 in reply to India's tally of 408 but it was the tourists who claimed the upper hand in the first hour with Mitchell Marsh and Brad Haddin sent back to the dressing room by some fine pace bowling.
Johnson stopped the rot in no uncertain fashion with a pugnacious unbeaten 67 in 53 balls to share a seventh-wicket partnership of 104 with Smith, who brought up his sixth test century with his 10th four just before lunch.
Smith, deputising for the injured Michael Clarke for the remainder of the series, was 110 not out at the break having scored 324 runs since last being dismissed after unbeaten innings of 162 and 52 in the first test victory in Adelaide.
The partnership took Australia to within 57 runs of India's score little more than an hour after it looked like they would face a big first innings deficit.
Marsh, hampered by a hamstring injury sustained on Wednesday, had added just four runs to his overnight score of seven when he left an inswinger from Ishant Sharma only to see the ball crash into the top of his off stump.
Haddin was fortunate to survive two lbw appeals in the first four balls he faced and rarely looked comfortable before departing for six when he fended a short Varun Aaron delivery straight to Cheteshwar Pujara at short leg.
Johnson, fired up by some sledging from the tourists, then clubbed the bowling around a ground where he has a batting average of more than 30, hitting one six and 10 fours in a belligerent knock.
Australia won a dramatic first test in Adelaide by 48 runs last weekend to take a 1-0 lead in the series, which was rejigged after the death of Phillip Hughes and concludes with tests in Melbourne and Sydney.
On Wednesday, Josh Hazlewood's five for 68 on debut helped Australia battle back into the second test against India but the contest remained in the balance when the hosts finished the second day in Brisbane on 221 for four.
India, who had been looking to drive home their advantage after taking charge on day one at the Gabba, could only add 97 runs to their overnight tally before being dismissed for 408 at lunch.
Australia lost three wickets in the second session and it was left to stand-in skipper Smith to steady the innings with a half century to add to the unbeaten knocks of 162 and 52 he made in the first test victory in Adelaide.
The 25-year-old, deputising for the injured Michael Clarke for the remainder of the series, was 65 not out when stumps were drawn early because of bad light, with Mitchell Marsh alongside him on seven.
All-rounder Marsh was unable to field let alone bowl after suffering a hamstring injury on Wednesday, one of a slew of Australians who ended the sweltering first day of the contest in the treatment room.
Australia needed a good start to day two and Hazlewood, crippled by cramps and forced off the field in mid-over on Wednesday, provided it by having Ajinkya Rahane caught behind for 81 with a peach of a delivery in the third over.
 TOUGH SLOG
The 23-year-old returned before lunch to break a 57-run partnership between all-rounder Ravi Ashwin (35) and India skipper Mahendra Singh Dhoni (33), triggering a collapse which saw the tourists lose their last four wickets for 23 runs.
"Yesterday was obviously a pretty tough slog with the heat," Hazlewood told reporters at the Gabba.
"But we all came out and bowled to our plan today and picked up the last six wickets for just about where we wanted them, so things are good."
Six of India's wickets were caught behind, giving Brad Haddin a share of the Australian record for catches by a wicketkeeper in a test innings.
David Warner was the first Australian batsman to fall, getting a top edge to an Umesh Yadav delivery on 29, and Shane Watson followed for 25 when Shikhar Dhawan took a brilliant catch off Ashwin.
Opener Chris Rogers had just reached his sixth test half century and appeared to be ushering Australia to the tea break in reasonable shape when he gloved a Yadav ball to wicketkeeper Dhoni for 55.
Smith and Shaun Marsh put together a stand of 87 for the fourth wicket before the latter was caught by Ashwin for 32 to give Yadav (3-48) his third victim and bring his brother Mitchell to the crease.
"I think we are in front of the game at the moment if we can have a good first session tomorrow," Ashwin said.
"We could have made a few more runs but 400 is enough if we can get a couple of quick wickets in the morning."
Scoreboard
India 1st innings 408 (M. Vijay 144, A. Rahane 81; J. Hazlewood 5-68)
Australia 1st innings (Overnight: 221-4)
C. Rogers c Dhoni b U. Yadav 55
D. Warner c Ashwin b U. Yadav 29
S. Watson c Dhawan b Ashwin 25
S. Smith not out 110
S. Marsh c Ashwin b U. Yadav 32
M. Marsh b I. Sharma 11
B. Haddin c Pujara b Aaron 6
M. Johnson not out 67
Extras (lb-3 nb-10 w-3) 16
Total (for 6 wickets, 75 overs) 351
Fall of wickets: 1-47 D. Warner,2-98 S. Watson,3-121 C. Rogers,4-208 S. Marsh,5-232 M. Marsh,6-247 B. Haddin To bat: M. Starc, N. Lyon, J. Hazlewood Bowling I. Sharma 15 – 1 – 81 – 1(nb-6 w-1) V. Aaron 20 – 1 – 113 – 1(nb-4) U. Yadav 18 – 3 – 68 – 3(w-2) R. Ashwin 22 – 3 – 86 – 1 Referees Umpire: Marais Erasmus Umpire: Ian Gould TV umpire: Simon Fry Match referee: Jeff Crowe
Around the Web