Winning and standing atop the podium is what all athletes train for.
Winning fuels competitors to excel and encourages them to remain competing. Losing does the same.
Perennial runner up to Guyana's premier bodybuilder, Kerwin Clarke, Godfrey Stoby knows all too well about playing second fiddle.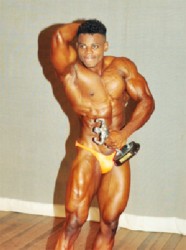 On December 7 however that was not the case as the Top End Gym standout out posed and out flexed rival musclemen to earn the title of Mr. Flex Night 2014
With his tanned and oiled chiseled physique glistening, Stoby was finally able to bask under the bright lights of the National Cultural Centre while pocketing the $200,000 first prize and winner's trophy.
Clarke, the two-time CAC bronze medalist, two-time Mr. Guyana and two-time Hugh Ross Classic champion soaked up the proceedings in street clothes from the audience as Stoby won his first major title since using his sharp physique to slice through the competition at Novices four years ago.
Just like losing, winning becomes habitual and Stoby will be hungry to taste success again whenever the two masses of striated muscle don their posing shorts.
Flex Night's victory was no doubt a confidence booster for Stoby who credited his mindset and work ethic for his success.
"I had a different mindset, actually I thought like a bodybuilder, ate and trained like a bodybuilder," Stoby told Stabroek Sport following the show. "I brought an overall package and conditioning that the judges liked," he added of his award winning physique.
Stoby also went on to thank his trainer, Mr. Henry and his brothers, Quincy and Derrick Stoby for his contest prep and support.
Could his confidence and hunger propel him to outshine Clarke in their next outing or was his victory just a mere result of Clarke's absence? Only time will tell. (Emmerson Campbell)
Around the Web