Guyana's world renowned bodybuilder, Hugh Ross wrapped up a 17-day trip to his homeland on Wednesday which he summed up as 'exceedingly fulfilling'.
During his visit, the United States of America based muscleman and newly appointed Tourism Ambassador gave motivational speeches at several learning institutions and also lent a helping hand in trying to give some cheer to our soldiers defending our borders. The 2010 Mr. Universe and Medal of Service recipient who has a professional background firmly entrenched in the military said he was honored to perform his tasks.
"I was asked to bring some joy to our soldiers and I was honored to oblige."
The paratrooper and jungle warfare expert added: "Personally I feel that was the least I could do by serving them an early Christmas lunch and spending time with them with the hope of boosting their morale.
"While we are celebrating here our soldiers are diligently performing duties along our borders defending our country," he declared.
The Brand Ambassador for Banks DIH's Malta Supreme and Giftland Office Max also used his massive muscles to aid in some philanthropic work on behalf of the two entities.
Ross expounded.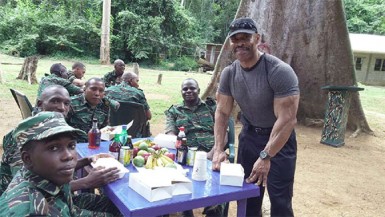 "For Malta Supreme, the major focus was touring educational facilities doing motivational speeches to the kids, not only about embracing a healthy lifestyle but general core values which they should incorporate to ensure that their journey from childhood into adult hood is along the right path embracing the proper conceptions of life."
"Basically for Giftland it was about promoting their brands and bringing more attention to the store and also educating other brand ambassadors that are under their auspices.
Giftland is about to open a massive mall located in the Turkeyen area and that should be completed by March if everything goes as scheduled. That entity will bring a new trend and spectrum of activities to our populace here."
The former Sportsman of the Year and World Master's Champion was also in the audience for Flex Night International on December 7 at the National Cultural Centre. Ross who serves as the Vice President of the Guyana Amateur Bodybuilding and Fitness Federation, praised the efforts of the Flex Night Inc. Committee for truly raising the bar. He also reminded that bodybuilding is not just about looking good, "it is about living and embracing the concepts that promotes good health and longevity." (Emmerson Campbell)
Around the Web