Curfew Tower's gate-to-pole victory in the feature D and Lower seven and a half furlong event in yesterday's  Guyana Cup Rematch gave the Colin Elcock trained colt his first career stakes win on local soil in two tries and has his connections thinking about bigger things for the newly imported thoroughbred.
Sent away as a long shot on the fast Port Mourant Turf Club track, Curfew Tower established the pace with Princess She Is Not right from the outset.
The colt owned by the Elcock Racing Stables got to the half-mile pole in :50.65s and after six furlongs in 1m:21.19s with a two-length lead over the hard charging favourites Grande Roja, Treacle and CP Got Even.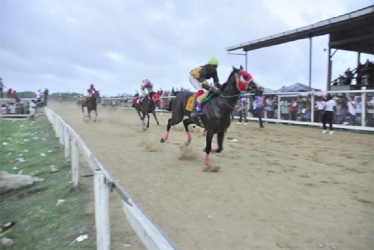 However, he began to pull away under some urging by jockey, Junior Sookham, going on to win by about three lengths from this season's winningest horse Treacle (seven wins) and Guyana Cup winner, CP Got Even.
Grande Roja finished fourth while Princess She is Not faded to fifth on the homestretch.
The $1.5m payday, was not too bad for 1m:35:90s of work.
Before the feature event, there were six races. The first five were won by the Jumbo Jet Racing Stables. Here is the summary:
Race 1
G1 and Lower
Appealing Harvest ($500,000)
Damascus Dream
War Craft
Rosetta
Race 2
H1 and Lower
She's So Special ($250,000)
Mary Ann
Royal Champion
Race 3
Two Year Old Guyana Bred
Amazon Warrior ($300,000)
Miss Massiah
Slim Shady
Race 4
Two Year-Old West Indian Bred
Keep On Swinging ($600,000)
It's My Choice
Settling Star
Midnight Blue
Race 5
E1 and Lower ($600,000)
Captain Crook
Right To Rule
Appealing Harvest
Swing Easy
Race 6
Three Year- Old West Indian Bred
Spit Fire ($1M)
Just Call Me Boss
Settling Jet
Unsettled
In excess of $10M in cash and prizes were awarded yesterday.
The 'Sport of Kings' continues on Friday when Kennard's Memorial Turf Club presents a grand Boxing Day event. (Emmerson Campbell)
Around the Web