Dynas Ravens secured their third consecutive Phillip George Memorial first division championship defeating Republic Bank Nets by a 72-60 score line on Saturday at the Cliff Anderson Sports Hall.
Akeem `The Dream' Kanhai led the winners with 20 points while Ryan Gullen, Ryan Stephney and Dominic Vicente registered 14, 12 and 11 points respectively. Scoring 15 and 14 points respectively in the loss were Drumson McCulley and Pellam Doris.
Leading the first half by a 22-12 margin, Ravens would outscore the Mandela Avenue-based side 20-12 in the second period to go into the half time interval ahead 42-24.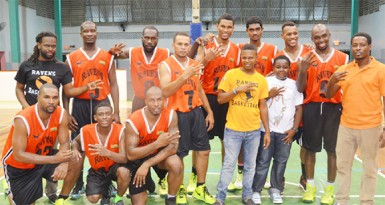 The resumption of the third period would see the defending champs out-shooting Nets once more by a 17-13 score to go into the final quarter leading 59-37. Despite being outscored 23-13 in the final period, Ravens would hold onto clinch the championship.
In the third division finale, Eagles FC overcame Colts by a 61-56 score line. Travis Belgrave led all scorers with 14 points while Japheth Hackett and Lyndon Wilson contributed 13 points apiece.
Dellon La Rose top scored for the losers, shooting his way to 12 points while Errol Dryden and Vibert Smith scored seven points each.
Although racing off to 18-13 lead in the opening period, Eagles would go into the half time interval trailing 36-29 as they were outscored 23-11 in the second stanza. Eagles would continue to trail in the matchup as the third period finished 44-37.
However Eagles would soar in the final stanza, out-shooting Colts by a 24-12 margin to clinch the title.
Around the Web