The Ramdhani siblings Priyanna and Narayan completely dominated the annual Woodpecker Products annual Christmas singles badminton tournament which ended Saturday at the Queen's College Badminton Courts.
Priyanna won four categories to be easily the most outstanding female player on show while Narayan copped two categories.
Matches were contested in the Under-13, 15, 19 & Open Events.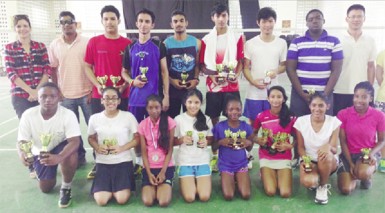 Priyanna won the U13, Under15, Under19 and Open singles events while Narayan won the U19 and Open categories.
Quanli Yang of China Harbour Engineering, was among those persons making the presentation to the winners on Saturday.
Meanwhile, in a release, the Guyana badminton Association (GBA) stated that it would like Ms. Fernandes for making the tournament possible once again and event which brings the curtain down on the badminton season for the year 2014.
Matched played on the final day were:
Under-19 Ladies Singles Round Robin:
Priyanna Ramdhani defeated Abosaide Cadogan: 21-6, 21-8
Open Men Singles Robin Robin:
Narayan Ramdhani defeated Jonathan Mangra: 21-11, 21-11
Narayan Ramdhani defeated Christopher Persaud: 21-6, 21-19
Narayan Ramdhani defeated Avinash Odit: 21-11, 21-15
Avinash Odit defeated Ronald Chang Yuen: 21-16, 13-21, 16-21
Jonathan Mangra defeated Christopher Persaud: 21-17, 23-21
Jonathan Mangra defeated Ronald Chang Yuen: 21-17, 21-13
Overall results:
Under-13 Girls Singles
1st place- Priyanna Ramdhani
2nd place- Abosaide Cadogan
3rd place- Siya Persaud & Priyanka Shivnauth
4th place- Sudarshini Sooknarine
Under-15 Boys Singles:
1st place- Tyrese Jeffrey
2nd place- Ransell Ramsaroop
3rd place- Akili Haynes
Under-15 Girls Singles:
1st place- Priyanna Ramdhani
2nd place- Abosaide Cadogan
3rd place- Siya Persaud & Priyanka Shivnauth
Under-19 Boys Singles:
1st place- Narayan Ramdhani
2nd place- Jonathan Mangra
3rd place- Ronald Chang Yuen
Under-19 Girls Singles:
1st place- Priyanna Ramdhani
2nd place- Abosiade Cadogan
3rd place- Amanda Daniels & Nyckelle Yearwood
Open Men Singles:
1st place- Narayan Ramdhani
2nd place- Jonathan Mangra
3rd place- Christopher Persaud & Avinash Odit
4th place- Ronald Chang Yuen
Around the Web