By Mario Joseph
Gazing across vast paddy fields and sitting atop tall coconut tress overlooking the savannahs gave Limlair farmer William Matheson the impetus to write poems. Today, at 58, he has launched his first book of poetry Songs of the Little Voice.
William was born at Limlair Village, Corentyne, Berbice and he began penning verse at the age of ten, on his school slate. Despite only receiving a primary education, his thirst for knowledge and love for poetry caused him to become an avid reader.
William noted that he has lived in two eras of Guyana's history: pre-independence/colonial era and the post-independence/post-colonial era; neither was greater than the other, according to him. His early life was spent on the Corentyne as a farmer and village boy before he ventured into Georgetown.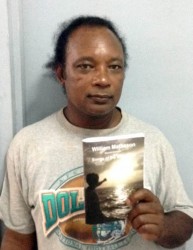 All of his poems are based on actual events expressed in rhythmic verses. They range from the plains of the farm to Kaieteur Falls, up the Kaburi or Mazaruni River, south to the Pakaraimas and Lethem and beyond.
Some of his earlier work, he said, poems like: "The Genip Tree", "The Bush Cook" and "The Hunt", were lost during his travels. He has an upcoming novel titled The Old Farmer, which is a 1966 historical fiction which he has previewed at the end of Songs of the Little Voice.
William said writing poetry was not a choice he made. "My environment was dominated by beautiful surroundings and poetry was the best way to express that," he said. "I lived on a farm and I enjoyed my life. I was happy at the time, free from stress and struggle which allowed my thoughts to flow freely.
It was easy to be surrounded by nature. Paddy fields were my greatest influences. Sitting at the top of coconut trees, overlooking the savannahs were awe inspiring scenes, expressed in my poems, specifically 'My Vision' on page 13."
William said he was inspired greatly by late president Linden Forbes Sampson Burnham because he focused on originality, self-development and promoting one's own ideas. "To commemorate his influence on me I wrote a poem dedicated to him, named Guyana on page 25 of my book," he says.
He was also heavily influenced by Martin Carter "for his great literary works and Leon Saul for his ideas of promoting local concepts [and] culture."
Asked how he started writing, William said: "As a boy I was always fascinated by great verses no matter who the writer… for example, Martin Carter's poem, 'This is the Dark Time, My Love'. [But] I believe in original thoughts. I like my own culture. I don't respond to western culture [or] influence.
"I would like to see more focus on Guyanese content rather than the British and North Americans.
"I place much emphasis on the olden days when Guyana's own culture was the focus. We've become too Americanized and thus lost our cultural individuality."
William is very proud of his poem "Guyana", part of which reads:
"Patriotism has roused your people, to fight
Breaking the bonds that brought them plight
From Akan Akomfo and Kofi Badu, to Burnham
Such heroes we know, the freedom we reap now
Yesterday we sow."
William is a man who likes order, therefore he is at odds with an environment littered with rubbish and he has a strong distaste for crime.
"I like reading and writing. I believe in self production not in borrowing or becoming dependent on others…
"I think I am jolly but have been cast as an oddball. I criticise people's foreign inclined behaviour and their shows of greater affection for foreigners…. This is the reason I face strong opposition and moreover from people lacking education," he said.
William recalled growing up with both his parents and an older brother. "My parents weren't educated but were literate. Paddy farming was the family trade and source of income. The paddy fields and the rice mills were where I spent a significant portion of my time…
"I was raised well by my parents but I disagreed with their form of punishment. I do not believe in beating a child to teach him/her. I refer to corporal punishment as child molestation and I fervently object to it."
William said back then he enjoyed swimming, playing cricket, and catching fish with cast nets, hunting wild animals and birds and bush cooks, activities he still enjoys today. "My poem, 'Morning Bright' on page 23 reflects on these activities," he said.
Today, he said, he continues to explore the vast hinterlands of Guyana and its neighbouring countries seeking inspiration and new ideas. "I have visited both Suriname and Brazil and the expanse of Guyana ranging from all of Berbice to Essequibo, the Kaieteur Falls, the Mazaruni River, Lethem, Bartica and the interior," he said.
William lives with his wife Esther. They have been married for 7 years but have been together for 28 years. They have two children together, a boy and a girl both of whom are full grown aged 22 and 28 respectively. And William has two other male children from a previous relationship, aged 36 and 34.
"I am still a farmer but I've been a writer my whole life," William said.
Around the Web