"Beauty is a something we cannot see, for it's on the inside. It is confidence, self-esteem and attitude. Beauty is loving and admiring yourself in the mirror even without the makeup on"   – Renee Chester Thompson
Renee Chester-Thompson is a makeup artist who is highly motivated by her customers, clients, students and by her family and friends. For her, the fact that she can provide extensive references from satisfied clients who keep coming back to seek her services is more than enough to keep her going every day.
She was specially trained in Barbados to represent the Black Opal Product line by Black Opal Product Manager for Caribbean Sales/Distribution, Anita Holder, who is also a Hollywood trained and certified Makeup artist (MUA). Numerous are the workshops she has attended in and out of Guyana.
Since then she enjoyed an extensive career in makeup artistry; some of her best work is reflected in her bridal makeup application. Aside from the time, passion and patience she puts into her craft, Renee has trained over 150 MUAs. She is also associated with several projects and events such as Miss World Guyana Pageant 2014, Race to the Altar – Wedding Expo 2013 and 2014, Fit Me Fashion event at Umana Yana in 2013 and Exotica Fashion Event at Pegasus Hotel, Savannah Suite in 2014. She is the official MUA for "The Online Runway" Blogger Ashma John, Lady Magazine, CPL 2014 Limacol Girls and the Guyana Amazon Warriors Models/Cheerleaders.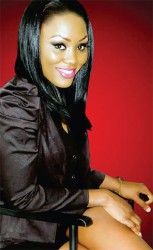 Renee explained that she has always had the interest in beauty and fashion but at first had never considered to develop a career out of it. In 2009, she re-discovered a cosmetic brand she was familiar with in the past and it led her to meet the person that changed everything. "I met the National Product Manager for Black Opal Cosmetics in Barbados and after a strong connection of friendship and business she mentored me into becoming a professional makeup artist and business woman," she recalled.
Becoming a makeup artist was not her initial ambition. She had two interests that she wanted to pursue: to become a dentist or a teacher.
"I was told by several makeup instructors that I definitely possessed the ability, understanding, passion and techniques to take my creations to higher levels, this of course motivated me and I'm yet to come down from that high," she said.
"I pushed myself to become attached to a cosmetic brand and today I can call myself a national product representative/distributor for the reputable cosmetic brand Black Opal Cosmetics. I guess you can say that knowing what you want and working towards it, always pays off in the long run. No regrets."
She considers it an honour to have served as MUA to some of Guyana's beauties and named a few: Lisa Punch, Olympia Small-Sonaram, Stacy Ramcharan, Ruqayyah Boyer, Nazima Raghubir, Atisha Gaskill, Rafieya Husain, Niketa Barker, Naomie Samuels, Nuriyyih Gerrard and Captain Debbie Gouveia.
"Point blank, I love applying makeup. I don't have a preferable or favourite design. I do, however, have an excellent eye for colour, and I firmly believe in bringing out a client's natural beauty through the careful application of complementary makeup," she said.
"…I just create… sometimes I look back at my work and wonder what the inspiration behind it was, then I realise that my happiness and passion and being so comfortable doing what I love just transcends into my work itself.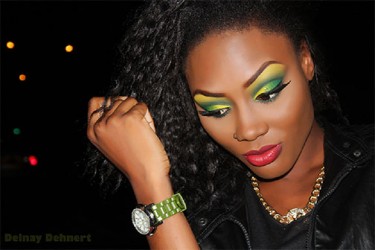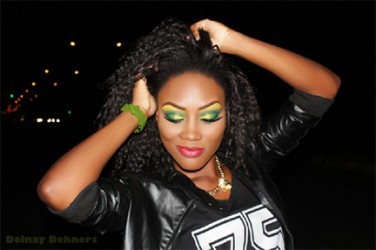 "I love to work with both warm and cool eye shadow tones. Coverage is important to me when I realise the client needs it. I get to play with heavier, dramatic and colour blocking makeup looks during the Mashramani season and I always enjoy that. I don't have a favourite technique. My aim is flawless regardless of dramatic, bridal or subtle."
Renee has founded her own company, Bromeliad.rnc and she has an interesting story on how she chose the name. The Bromeliad is a tropical rainforest flowering plant that is very high maintenance, she said. It needs special care and attention. It has various species, with the Silver Vase being one of the rarest. Renee owns a Silver Vase Bromeliad. Its flower is absolutely breath taking, she said. Renee linked the information about the Bromeliad's special need for love, nourishing, and attention and its breath taking beauty to a woman and her beauty and skin care needs. "That's how I make the name work for me and my clients and customers," she said.
Although she has already made a name for herself, Renee refuses to rest on her laurels. "Within five years my aim is to still be in the business, but better, stronger, advanced, certified higher and more established as a businesswoman," she said. "It is my dream to establish a top makeup artistry academy in Guyana where upcoming MUAs can become certified with hands-on training by me with a globally recognised certificate."
She also plans on studying Aesthetics. Aestheticians are licensed professionals who are experts in maintaining and improving healthy skin.
She has crafted a plan that will get her where she wants to be. "In order to do this, I aspire to equip myself first with the necessary advance and international training needed. My plans also entail gaining the opportunity to work with a celebrity or several and to see myself or my work on the pages of one or some of the most popular magazines on the international market."
In time too, Renee sees herself, "developing my store and a makeup artist tools' line to be called .rnc. I aspire for much more." The .rnc represent the initials of her name.
"I'm aiming to be on board as MUA for New York, Paris, and Milan fashion week; also, MUA for a major production such as a music video or a movie," she expanded, adding, "plans to have my own makeup academy will never die."
Renee is "alternately, inspired and re-energized and motivated by the works of masters in makeup artistry such as Sam Fine, BeatFaceHoney, Arlene Villarule, Amiela Razzaq, Danessa Myricks." And she follows the successful career of Master MUA Buntricia Bastian whom she's never met personally but certainly idolises.
Renee has learned to "expect the unexpected. This job is unpredictable at times and can take you many places, and I'm hopeful."
Renee is married and celebrated her second wedding anniversary on July 28. She said she and her husband both love children and will start their own family soon enough.
Comments

GEMS Theatre Productions presents a new half an hour sitcom "Days Like Dese," a family-oriented comedy that surrounds the Rupauls, a middle-class Guyanese family.

Just three weeks short of the staging of the Miss Guyana Renaissance pageant, twelve ladies are kept busy perfecting dance routines, walk and speeches.

Twenty-year-old Keisha Brazh under the African name 'Serwah Mawusia,' is representing Ghana.

Put to task at the age of just ten to help to create the family's Christmas cake propelled Rabina Shivraj into a world of baking and decoration and today she has learnt the art of hooking her customers, first with her creativity and secondly with the taste of her creations.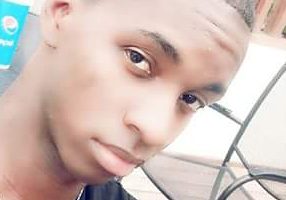 By Joanna Dhanraj With August fast approaching, the contestants of the Mr and Miss Guyana African Roots 2017 pageant are busy perfecting their skills for their big nights.