At 60, Sam Barakat has 'been around the block' as far as business is concerned. Over time he moved from being a contractor to farming then to gold mining in the Cuyuni. Today, he has returned to farming at Nashville in the Pomeroon River and – at least so he says – that is where he intends to stay.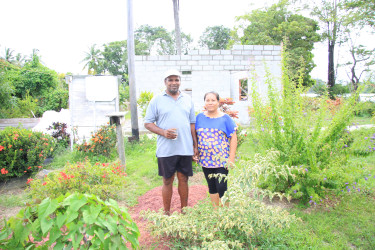 The mining sector, Barakat said, bankrupted him. He was one of those miners who persisted to the end. Having returned to farming, he appears more comfortable. Not too many farmers-turned-miners from Region Two appear ready – at least as yet – to return to the land.
He had bought his farm about eight years ago and while he was mining gold at Cuyuni, he had been investing in its upgrading. Flooding ravages many farms in the Pomeroon River and Barakat invested in raising the level of his farmland and digging drainage trenches.
Unworried by the plague of flooding, Barakat is focusing his attention on cultivating a variety of fruit on his 50-acre plot. Avocado is grown on at least thirty acres – an investment that is due in large measure to the professed health benefits and the high demand for the fruit on the Essequibo Coast. The remaining area of land is used to cultivate citrus, peach, bananas, coffee, bitter cassava, and plantain.
Avacado is the mainstay of Barakat's farming pursuit. Most days, himself and his wife Denise, reap the fruit using a stick and bags. Avocado cannot be allowed to fall on the ground. His main market is on the Essequibo Coast through there is a modest market in Georgetown. On Mondays, Denise takes avocado and other fruit to Charity Market. Access to Charity Market from the Barakat's farm is facilitated by about a mile of dirt road built by Sam which connects his farm to Charity. The more costly option is to ferry his produce down the Pomeroon River.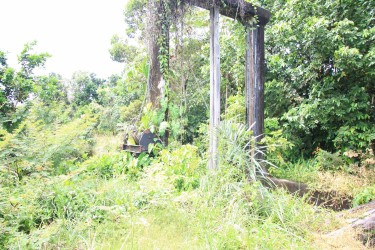 When Stabroek Business visited the Barakat's farm last week, the trees were laden with avocado. Some had become ripe and fallen to the ground. They were left there to rot. The available evidence would appear to suggest that there are simply not enough hands on the Barakat farm to reap the fruit they grow.
Currently, there is a glut of avocado on the market and Sam is less than happy with prices. The current market price to the vendors is around $100 per kilo. Imam Bacchus and Sons offers as much as $400 per kilo. It is a market that he values though he is seeking to expand his market in the city.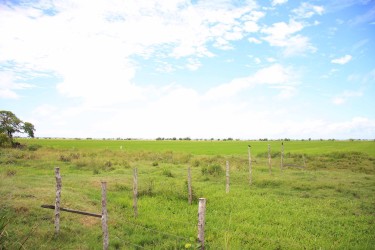 Barakat maintains an abiding faith in fruit, particularly avocado. His nursery currently holds up to 700 avacado plants and he expects to increase his avocado yield by the end of next year.
Farmers in the Pomeroon River have their own crosses to bear. The mouth of the Essequibo River has become so silted while the Pomeroon River and the drainage and irrigation canals have become clogged as well. Flooding has become an occupational hazard of farming in the Pomeroon. The persistent ones endure but many of them have simply abandoned their farms and in some instances sought 'refuge' in the goldfields.
Barakat says that "the cost factor" means that dredging the mouth of the Pomeroon River is unlikely to be an option at this time.
There is evidence too that the lure of gold has affected farming in the Pomeroon. That, coupled with the serious flooding problem has left farms unoccupied and densely vegetated. Now that falling gold prices has triggered something of an exodus from the goldfields, there is the likelihood that some of the absentee proprietors will eventually return.
Denise spoke with Stabroek Business about the ebb and flow of the fruit market. Charity's popular Monday Market customarily brought vendors from Georgetown to the Essequibo Coast to purchase mostly fruit but nowadays, it is not what it used to be. Oranges are out of season and farmers can get up to $4000 for 100 oranges. That would be good for the vendors if the transportation costs are affordable.
Last week's wholesale offerings at Charity Market included plantains at $30 per pound, bananas at $40 per pound and bitter cassava (used in the production of cassava bread and starch) at $20 per pound. The wholesale price for water coconuts was $30 each.
Close to Nashville, there is a modest community of around 12 dwelling houses collectively known as The David James Scheme. Samuel Melville, one of the residents owns a three acre plot close to his home. After 16 years, he is contemplating farming for the first time. He is, however, apprehensive about the threat of flooding. The canal upon which he has to depend to drain his land is badly silted. James related that protestations to the Neighborhood Democratic Council have borne little fruit.
At Sommerset and Berks, we met Kenneth Khellawan. Seven years ago he relocated from Siriki. His homestead includes a 30-acre plot of land though, like so many other farmers in the Pomeroon River, his agricultural pursuits are undermined by flood-related challenges. Crop losses associated with flooding is evidently the single biggest challenge facing farmers in the Pomeroon River.
Around the Web