When Elisabeth Harper was announced as the PPP/C's Prime Ministerial candidate recently the question many Guyanese asked was: "Who is she?"
While Harper would have served for almost 40 years at the Ministry of Foreign Affairs—15 of those years as Director General—she was and still is relatively unknown outside of the political and professional circles.
This was not helped by the fact that at her surprise announcement, PPP General Secretary Clement Rohee and President Donald Ramotar spoke for and around her, while she uttered not a word.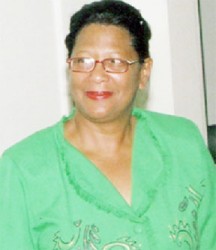 For this, she was roundly criticized with the bulk of this criticism from social media (Facebook) pages. But during a sit down with the Sunday Stabroek last week, Harper said she is not fazed by the criticism nor would she do it differently, given a second chance.
But why did she not speak?
"I was introduced. I didn't see the need at that time to say anything," Harper said.
Further pressed, she said people have expressed their own views and they would continue to do that.
"I have no other comment on the issue," she said emphatically putting an end to the line of questioning.
Since entering the race to become the second top government official should the PPP/C triumph in the May 11 polls, she is still not being heard and some are still questioning who she really is. She made her debut public political speech at Babu John during the death anniversary of the late Dr Cheddi Jagan but said little.
A family woman and a mother of two daughters and one son, Harper says her late mother was the one she drew her strength from. It was she who ensured that the pregnant 17-year-old Harper did not give up and later on, during an abusive four-year marriage, she stood firmly by her daughter's side.
The soft-spoken Harper said she prayed before accepting the prime ministerial candidacy, but said; "I am not going to let this change who Elisabeth Harper is."
While she has thrown her hat in the politicians' ring, Harper is yet to take off her Foreign Affairs hat. So while she may now be considered a politician, she said, she is "still serving the people."
Domestic violence
Surprisingly, should she become prime minister Harper's focus would not be her area of expertise, Foreign Affairs, but rather domestic violence and teenage pregnancy with the aim of helping to empower women and young girls. The elderly and the disabled are also areas where her interest lies. She did mention that with her international relations background she would also work in that area.
Speaking about her domestic violence experience, Harper said she managed to get out because she had a very supportive family, especially her mother, who helped her. She would not go into detail about her experience.
"For me, my first husband is still the father of my two children and so I have respect for him [in that regard] but that was my life then and that's over," she said.
"I see this as an opportunity for me to connect with people who are encountering similar problems. I have been there, I know what it is to walk away and I also know what it is to forgive, that's very important," she said.
For her it is important for women to tell their stories and for people to understand and believe them and help them.
Asked why she is only now speaking about her experience when Guyana has been facing increasingly incidents of domestic violence, Harper said she only now has the opportunity.
"I never felt the need to speak about it before. It wasn't something in my diplomatic career that I would suddenly take to the floor and say 'excuse me, you know something?'" Harper said.
She said the platform as prime ministerial candidate is what would allow her to speak about it and try to help.
She believes there should be a "national conversation" on the issue and which should stretch across all divides involving all the stakeholders. When told that there would have been several conversations, Harper said "we need to continue."
Domestic violence victims are now encouraged to report their abuse but Harper said it was not a road she took during her experience.
"The world has changed and what used to be acceptable in the past… [is no] longer acceptable and this is one of them," she said.
Her experience, Harper said, is an issue in the past that "I would prefer not to relive" but at the same time she knows what she went through and she knows how she dealt with it and how she can connect with and help people.
At 17, Harper became pregnant with her eldest daughter which saw her forced exit from school. She was in sixth form at the time. She said while she would not have spoken about it in the past people would have known. "Something like that you learn from your mistakes, actions have consequences…"
Her mother was very supportive and she never made her feel unwanted, nor was she ostracized by her family.
Harper's mother passed away in 2010 but not before she would have seen her youngest daughter reach the pinnacle of her career.
"She did say to me one time that 'you know I am so proud of you,'" Harper said, getting very emotional at this point.
She said girls who find themselves in similar situations should know that it is not the end of the road; a mistake was made but their families should embrace them.
"You need to pick yourself up, dust yourself off and make sure that you give the child all the love that you could give them as it is not their fault that this happened to you and try to make a good life for you and your child," she said.
Critics have said that Harper's sudden opening up on these issues is opportunistic and part of her bid to score political points, but an unfazed Harper said, "We are living in a society that allows free speech and so I wouldn't want to condemn anybody from airing their views. With regard to my life, I know what I went through and that's my life.
"The fact that I never said anything before I am not sure where that came from. Perhaps I do, but the fact of the matter is I have shared my life. It is now transparent and quite frankly I didn't have to say anything. [But] maybe it might have come out and then people might have said 'well why didn't you say X?'
"This is who Elisabeth Harper is and people want to know who I am, how I grow up and I have shared my life with them.
"I don't want to score points by telling something like this… For somebody to come out and say what they went through, I don't think that is how we should see it because other women out there might say 'you know something I shouldn't say anything.' You want to encourage people to speak."
Five sisters
Harper is the youngest of five of what she said was a "blended family" since her father—whom Aubrey Barker Street is named after—and mother were both married before meeting each other and each had a pair of daughters. Harper is the only child from their union.
"But mom and dad never made us call each other step… No, it was daddy, mommy, sisters that is how we lived," she said admitting that she was a little spoilt being the youngest.
For her, it was her family background that really gave her a grounding and she said the family unit was still close even though both parents are deceased.
Her mother raised her from 12 years old after her father died in 1969.
Harper attended the St Gabriel's Primary School before moving to St Rose's High.
After she had her daughter, Harper said, she worked for a few years at the Ministry of Foreign Affairs before heading off to the University of Guyana where she read for a degree in French and Spanish.
After the University of Guyana she attended Oxford University where she undertook diplomatic studies for one year.
She commenced her work career at the ministry as an entry level clerk in the registry. It was an officer by the name of Errol Lee to whom she had passed a file and offered some guidelines who recommended she move out from the registry. He may have seen her potential.
Harper then moved to the administration department and in those days one could have applied to join the Foreign Service without a degree, which she did and entered as a Foreign Service officer one. She was in the protocol department and later moved to the political department. She was posted to England in 1991 where she served until the end of 1995. She returned to Guyana and headed the political department.
Harper's upward move on her career ladder saw her being influenced by several persons many of whom she views as her mentors.
"I appreciate every little bit that they inputted in me; I cherish that," she said hoping she was able to give back some of what was given to her to some of her officers.
Asked about her political ideology, Harper said it is service "…That is what I see. That is what I live and it is how I feel."
When relaxing Harper reads. Her busy days at Foreign Affairs gave her little time for holidays, which will not change should she become prime minister. She does not have many friends and lists her husband, former cricketer Mark Harper, and her family as her friends. Quite understandably, the news is a much watch and Harper said she also enjoys spending quiet time with herself.
Around the Web