One month ago, British grandmaster Nigel Short provoked anger and derision when he claimed that men are "hard-wired differently" to be better chess players than women. Short incurred the wrath of the women chess players worldwide including the Hungarian grandmaster Judit Polgar, whom he had engaged previously, losing three games, drawing five and winning zero in their eight certified encounters.
Short, 49, became a grandmaster at 19, and challenged Garry Kasparov for the world championship title in 1993. Polgar,

on the other hand, was a chess prodigy along with her two sisters, and broke Bobby Fischer's record to become the youngest grandmaster at age 15 in 1991. She was the strongest woman player for 26 years until her retirement from chess competition last year. In addition to defeating Short a few times, Polgar also defeated Kasparov in 2002. Naturally, Polgar was incensed at Short's sexist remarks which were carried in the Dutch magazine New in Chess titled, 'Vive la Difference'. She spoke to Time on the topic of men considering themselves genetically superior to women at chess.
Polgar juxtaposed the distinction between men and women chess players: "It's not a matter of gender. It's a matter of being smart." She continued: "We are capable of the same fight as any other man, and I think, through the decades that I actively played chess, I proved it as well." Polgar went on to say that her parents raised her and her sisters to believe that women are able to reach the same result as men once they enjoy the right and same possibilities. In last Sunday's chess column, international master Nisha Mohota of India commenting on Short's Vive la Difference' article said the claim did not mean men were more intelligent.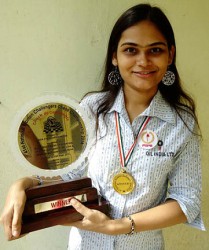 "There is a theory that women are inborn nurturers. Nature has made women very soft and caring. However, every woman chess player knows that she has to become tough to excel in chess. They say chess is a gentleman's game. Yes, chess players are very good human beings off the board, but trust me, a very average human being cannot excel at chess," Mohota said. "One has to be extra sharp and clever on the board, one has to be a bad guy on the board – completely ruthless…. Women find it difficult to keep double standards. They always have soft corners for people and being ruthless doesn't come naturally to them. So we see that a girl has to develop instincts which are not natural to her.
"She has to make extra efforts to develop that killer instinct which a boy has very early on, and he mingles in similar company. Do I mean to say that women cannot develop these qualities to play good chess? Of course they can, but they do so with effort, acting against what nature has made them. These are the characteristic traits which make girls different from boys from an early age.
"People often ask me: 'Why are there less women chess players compared to men?' For this one needs to understand the problems faced by women.
"…The biggest problem faced by women chess players is travel. Due to societal conditions in India, girls cannot travel alone to tournaments. It is unsafe. A parent always has to accompany her….
"Young girls miss a lot of opportunities because they cannot travel alone. I have seen that most parents accompany their daughters to tournaments. This adds to their financial burden. All of us have seen India's best woman player Koneru Humpy always accompanied by her father.
"The other serious problem faced by parents of a girl child is the problem of coaching. For a young girl to take coaching from outsiders is definitely not easy, so it is normally the immediate family member who takes care of her training. India's first WGM, S. Vijayalakshmi, India's best woman player Koneru Humpy and I have all been coached by our fathers. But not everyone's parents know chess. There are almost no women coaches because after an active career a woman feels the need to care for her family, and this she feels is more important than status or money…             "The prize money in women's tournaments is always less than in men's tournaments…Take for example my very own state. There are cash prizes in State Championship for men whereas only mementos are awarded in State Women Championships. Did someone say playing chess does not require money? Trust me, it is one of the costliest sports today – huge expenses in coaching, travelling, hotels, not to mention participation in international tournaments. In fact, coaching expenses for chess are almost the same as tennis! However we still continue to believe that chess is one of the most economical sports around."
Continued next week
Around the Web