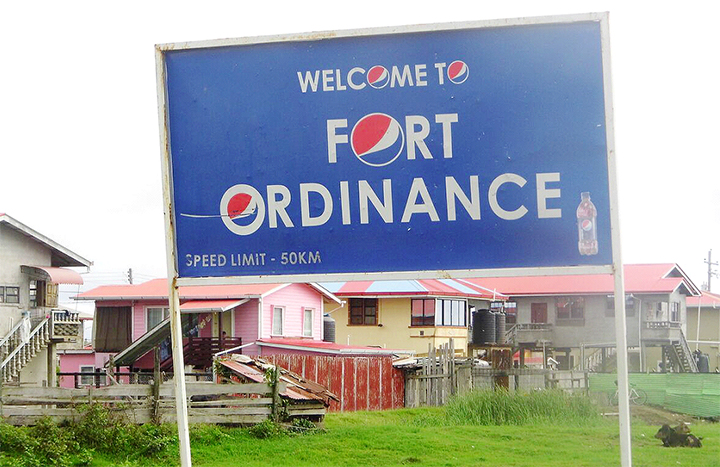 Established on a portion of the Ordnance Fortlands on the right bank of the Canje Creek in East Canje, Berbice, Fort Ordnance Housing Scheme is said to be sixteen years old. The residential area was developed on what was once Dutch territory. According to history records, the Dutch had a fort called St Andries in the area (which was later changed to St Andrew when the British took it over). The name 'Ordnance' referred to the weapons and ammunition which were stored there.
As part of its housing drive, the then PPP/C government identified the area for a housing scheme. The housing scheme comprises two phases of development. Phase 1 which was opened some 16 years ago and Phase 2, started some five years ago and which has mostly government 'core houses'. The scheme is bordered by the villages of Sheet Anchor and Number 2.
The 3,000-odd residents of the area come from different walks of life, and strike a balance among the main religious groups in the country, namely Christians, Hindus and Muslims. The community is also characterized by a large Indo-Guyanese presence and an aging demographic.
First Phase
Approximately 75% of the occupants of the first phase of the housing scheme have access to basic necessities, that is, electricity, potable water and telephone services. Timothy Dorway, who is in his mid-thirties, was one of the first persons to occupy the new housing scheme. He described the community as being very good and one that is constantly developing. "I was among the first ten persons to move in and since then it has been developing all the time so I can't complain". He added, that although "it's a mixed scheme; it's a generally quiet area." The only blight he noted is "lots of time we does get incidents where one two youth man does jump people house, but nothing big." He pointed to certain roads in the community in need of maintenance and suggested the installation of street lights as things that need urgent attention. Yvonne Simon, 52, when approached by The World beyond Georgetown gushed about her community, saying "the area is very quiet during the day, and even in the evenings it does be quiet." She too had no major complaints about the housing scheme, except to say measures need to be put in place to ensure vacant lots are occupied in a timely manner. "It is very disgusting having to clean other people property. I clean four vacant house lots surrounding my house and it's really bothersome. I would like the people to come and clean their lands regularly even if they are not ready to occupy."
Relocating from Stanleytown in New Amsterdam, 43-year-old Alysia Trellis has lived in Fort Ordnance since 2006. A nurse by profession, Trellis described the relocation as being a major social adjustment. She explained that her previous residence "didn't have so many people and houses". Sharing some of experiences, Trellis said "at the hospital where I work as a nurse, people come to see the doctor and when they give their address, I'm shocked to know that they live in the scheme and I've never seen them before!" Now, she said, she has grown accustomed to living in a community with thousands of villagers.
Adjusting to the integrated community also proved challenging for Trellis, because as she puts it, "people come from all parts of the country to live here and they bring their own culture and way of life." She however noted that it's a good thing at the end of the day, since "it kind of forces us to learn to tolerate and understand things we do not know or may not be familiar with because we need to live good with our neighbours, since they are the first persons we can call on in cases of emergencies."
She went on to highlight the need for better roads, street lights and a recreational facility. "On Easter Mondays persons would go to the ball field in front, but besides that we have no other form or source of entertainment," she said. As such, "there is need for a well-developed play ground because we have a lot kids in the scheme."
As it relates to crime, Trellis noted there are a few idle youths who take advantage of the fact that most of the residents are "working people and are not really at home certain times of the day so couple times you find persons go in their house and steal stuff." To curb this trend, she suggested the establishment of a police outpost in the housing scheme.
Sixteen-year-old Anthony Gonsalves, who was munching on some potato chips when The World beyond Georgetown toured Fort Ordnance, disclosed that as a result of the lack of recreational facilities, he and his friends are often inventive when trying to find things to occupy themselves. He, however, remarked that it would be nice to have an appropriate place to "play cricket and football, catch fish, and just hang out with friends." He emphasized the need for a recreational centre and opined that better roads, "one without potholes would be super cool for us to ride our bikes and race."
Right off the bat, 36-year-old Rita who has lived in the scheme for some seven years, listed street lights, proper drainage, better roads and a police outpost as some of the things needed. "The scheme is big, we have first phase and second phase and a lot of people come and living here from different places and you don't know their character," she said. She went on to say "we have all types of people and we don't know their backgrounds, so police presence here would prevent certain crimes from happening." The mother of two also suggested the establishment of a health centre, explaining that "it's a good distance to get out of the scheme, and a health centre would be appreciated, especially for the many old people living here." (Continued next week)
Around the Web