A businessman is now a remanded prisoner after he was charged with possession of cannabis and an unlicensed revolver yesterday.
It is alleged that Deon Coates, 35, of Lot 890 Fifth Avenue, Diamond, East Bank Demerara (EBD), had 13 grammes of cannabis in his possession. It is also alleged that on the same day he had a .38 revolver and three rounds of .38 ammunition without being a licensed firearm holder. Coates pleaded not guilty when the charges were read to him by Chief Magistrate Priya Sewnarine-Beharry.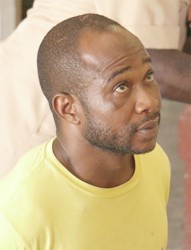 Attorney Gordon Gilhuys, who represented Coates, applied for bail to be granted in a reasonable sum. He said Coates was not the only person arrested as five others were also held and the articles were found in a storeroom and not on his client's person.
It is the police's case that, acting on information received, police went to Coates' home, where three males and two females, who said they were just visiting, were also present. Coates reportedly permitted the search, which uncovered the cannabis as well as the gun and ammunition. Police say Coates admitted to the narcotics but denied responsibility for the other articles. As a result, all six persons were arrested but the two females were later released.
Prosecutor Michael Grant objected to bail, citing the nature, gravity and prevalence of the offences and the penalty they attract. His objection was upheld and bail was refused. Coates is expected to make his next court appearance on February 13.
Around the Web