Two men, accused of robbing a woman of her jewellery and phone, were stopped during their getaway after she ran them down with her car, a city court heard yesterday.
East Ruimveldt duo William Evans, 24, and Tambico McKenzie, 29, allegedly attacked Marissa Loelkuirk with a knife. The charge, read yesterday by Magistrate Judy Latchman, stated that the men, on February 6, at Cane View Avenue, South Ruimveldt Park, robbed Loelkuirk of an iPhone, a gold chain, a gold and diamond ring and three gold bands, all totalling $370,000.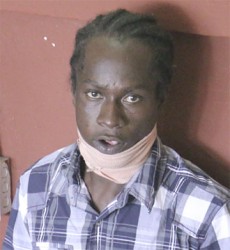 Both men denied the charge.
Prosecutor Shellon Daniels objected to bail, while noting that the stolen articles were recovered on the person of the men, who admitted to the offence under caution.
The court also heard that after Loelkuirk was robbed, she pursued the men in her car and ran into them, which led to their arrest.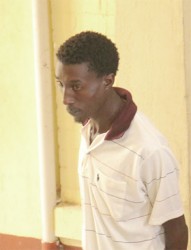 But from the prisoners' dock, McKenzie, who stood with a bandaged neck, accused prison officers of beating him and his friend. "De officer them at the lack-up beat me and me fren bad. Besides, I gat a sprain foot to. Dem kick me in meh belly, pon meh ribs, all pon meh mouth and dem tek €6, meh phone and meh testament and dem seh how me ent getting it back," he told the court.
Meanwhile, Evans accused the officers of stealing $5,000 and threatening to kill him while they allegedly abused him. "Dem push me head down a gutter and dem tell me dem go kill me. One a dem had he foot pon me head and when I raise me head I see three guns pointing at me and is a girl save we.
After them see the girl coming them stop," Evans said.
After the men related their claims, Magistrate Latchman informed them that the court had recorded their statements. Nevertheless, she refused bail and adjourned the case until February 20.
Around the Web