Two men, due to stand trial in the Berbice High Court for murder, were discharged then recharged yesterday due to an error in committing them.
Justice Brassington Reynolds dismissed the charge against Dharmraj Persaud, 41, and Yougeshwar Dhanaram, 32, who are accused of murdering Sasenarine Persaud, 17, called 'Suresh,' on April 29, 2012, at Number 70 Village, Corentyne.
The men were discharged after Dhanaram's attorneys Mursaline Bacchus and Kim Kyte-John made submissions about the committal and indictment. Persaud's state-appointed attorney Raymond Ali also endorsed the submissions made by his colleagues.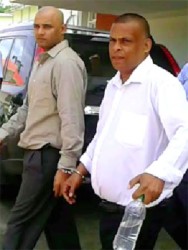 However, moments after the charge was dismissed, the murder accused were taken before Magistrate Sherdel Isaacs-Marcus at the New Amsterdam Magistrate's Court and were charged once more with murder.
Police Prosecutor Sergeant Phillip Sherriff told the court that the case was discharged in the High Court because magistrate Krishndat Persaud, who had presided over the preliminary inquiry, erred in the committal of the accused.
When asked by the magistrate if anyone of the accused had anything to say, Persaud declined while Dhanaram explained that he was disappointed. "I was in jail for three years and I didn't get [any] trial. There's no justice and I have to pay lawyers," he said.
The matter was then transferred to the Springlands Magistrate's Court for February 12th, 2015.
It is alleged that Sasenarine Persaud's step-father, Naresh Roopnarine, was heading home when the two accused approached him and the three began to have a conversation that led to an argument. Roopnarine had said the men started to "beat him up" and Persaud tried to intervene. The men allegedly turned on the teen and fatally wounded him.
Around the Web