Residents in some sections of Georgetown have opted to pay private garbage collectors while others are battling an overflow of refuse since Puran Brothers Inc. has discontinued its collection services for nonpayment by the city council.
Although some areas were relieved by additional efforts by the Mayor and City Council, because of its limited resources some sections were left with a build-up of refuse.
On Sunday, East and West Ruimveldt along with Freeman Street and Castello Housing Scheme were left to deal with the pile-up.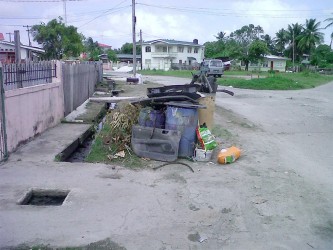 Raymond, who shares his home with an extended family on Water Lily Street, West Ruimveldt has since resorted to dumping in a small space behind his house. This action was taken after waste was left in front of his home in a cramped yard.
"You can't burn because the area so small, it affecting the neighbours, so me na have no other alternative and this house gat six small children," Raymond stated.
A businessman, Pedro, who operates on Marigold Street, is also very aggrieved about the situation and hoped for a speedy resumption of normal service.
A senior citizen who lives on Crest Street, West Ruimveldt, said that she took her garbage tank by the roadside with the hope of it being emptied but had to bring in back into the yard since the dogs would wreak havoc with it. The woman said that she took some of the waste to a secluded location in the area and burnt it.
In West Ruimveldt Housing Scheme, a mechanic said that he burns all the waste which could be burnt but he also expressed concern over a filled drum which is waiting for a collector to come and empty. Burning waste is a practice that is prohibited under the law.
Meanwhile, Roxanne Neblette of Mango Lane is disgusted with the mess which the dogs are creating by tugging the garbage around the area. "It need to be emptied, the dogs would pull the stuff from the drums and every day you come home from work, you got to be picking up the things from the ground and putting it back."
At Castello Housing Scheme, some residents were on Sunday willingly paying $300 to Sand Dip collection service, to empty a barrel of waste. "I don't mind paying the three hundred dollars because, if you see worms that breeding and I gat small children, so I glad they come to collect," a mother stated.
Although others were paying for their garbage to be collected, many complained about acting town clerk, Carol Sooba who they blamed for the problem.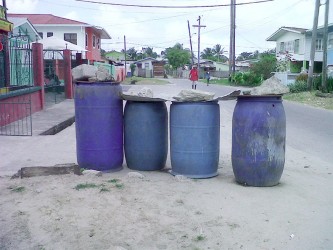 Puran Brothers Inc. had initially threatened to discontinue its collection services to groups 7 and 8 but after an intervention by the Minister of Local Government, Norman Whittaker who had suggested an agreement to have payments worked out, the service continued. However, after monies owed to the company were not paid, the company discontinued its service about a week ago.
The areas that fall under Groups 7 and 8 include West Ruimveldt, East Ruimveldt, Castello Housing Scheme, Independence Boulevard, West La Penitence, Jeeboo Land, North East La Penitence, East La Penitence (Freeman Street), Lamaha Springs, Alberttown, Kingston, North Cummingsburg, South Cummingsburg and Queenstown.
Sooba had told a press briefing at City Hall last week that the city councillors were advising the minister to instruct the town clerk to place public tenders for waste collectors which has no basis.
Meanwhile, the Deputy Mayor, Patricia Chase-Green told Stabroek News that Sooba continues to ignore the council's request to place public tenders for solid waste collectors for the specific groups. She said that the council due to its limitation is incapable of handling the current situation in the city.
Around the Web