The historic Umana Yana which was gutted by fire five months ago will be rebuilt after funds are approved by the 11th Parliament.
When contacted on Monday for an update on the plans by the Ministry of Culture, Youth and Sport for the rebuilding of the heritage site,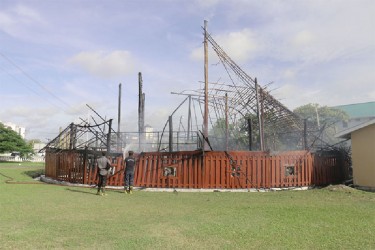 Permanent Secretary Alfred King said that the rebuilding of the Umana Yana is on that Ministry's capital programme for 2015. However, he said, because of the suspension of Parliament, the submitted plans for the rebuilding of the Umana Yana to the Ministry of Finance, will not go anywhere until the commencement of the 11th Parliament. The 55-foot-tall thatched-roof benab, which served as a leading centre for cultural events in the city, was engulfed in flames on the afternoon of September 9, as a result of what appeared to be an electrical fire. It was ravaged within a matter of minutes, despite attempts by the Guyana Fire Service to save it.
Named the Umana Yana, which means "meeting place," the structure was built by Amerindians in 1972. In 2010, it was refurbished by 39 Amerindians of the Wai Wai tribe at a cost of $16M and this included the team painstakingly affixing over 500,000 troolie palm leaves, held together by vines gathered from St Cuthbert's Mission.
Around the Web