Magistrate Sherdel Isaacs-Marcus granted $1.8M bail to a Corriverton woman charged with 18 counts of embezzlement amounting to over $8 million from Unicomer Guyana Inc when she was last week arraigned in the New Amsterdam Magistrate's Court.
Joanella Mongal, 33, a businesswoman of Lot 8 Scottsburg Corentyne and a former employee of Unicomer Guyana Inc, the home of Courts and Lucky Dollar brand stores, is accused of embezzling $8.830, 407 sum between January 6 and February 28, 2014.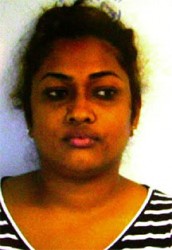 Mongal, who managed the Corriverton Lucky Dollar Branch is accused of embezzling the said sum while being a clerk or servant of the company. The court heard that on January 6, 2014, she allegedly stole $1, 512,061; on January 8 she is accused of stealing $280, 725; on January 9, $125,222; on January 13, $303, 115; on January 15, $878,295, on January 16, $150,700; on January 18, $290,000, on January 20, $341,900 and on January 21, $253,900 was allegedly embezzled.
She is also accused of stealing, on January 22, $100,200; on January 23, $84, 669; on January 24, $448,700, on January 25, $135,150; on January 28, $692,315; on February 21, $291,000; on February 26, $469,000 and on February 28, $2, 230, 125.
After the 18 charges were read, Police Prosecutor Sergeant Phillip Sherriff told the court that while he is not objecting to bail he asked that it be granted in a substantial sum.
However, Mongal's attorney Ramesh Rajkumar told the court that the woman has a fixed place of abode and that it is the first time before the court.
She was ordered to appear in the Springlands Magistrates' Court today.
Around the Web