Giftland OfficeMax yesterday donated $50,000 to the Cancer Institute of Guyana and gift hampers to cancer patients as it began celebrating Valentine's Day early.
Company representatives visited the Institute yesterday at its office on East and Lamaha streets and handed out roses and gift hampers to cancer patients and cancer care workers.
Giftland's Marketing Officer Andrew Ballenthin told reporters that the monetary donation was a gift to patients in need of medical treatment.
"We know that this is a small drop in the bucket but it's really the start," he said.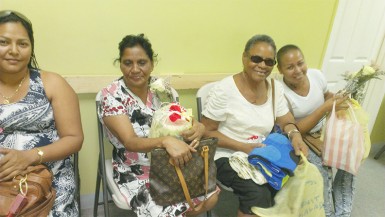 He said the company's marketing team, which was looking at ways to give back to the communities, had promoted the donation. He said they realised that there are a lot of people who need a smile on their face on Valentine's Day. "So Giftland came up with this initiative because we believe that Giftland is about the people," he said.
He also said it was the start of a long-term investment. "We stand up to make sure that we actually make a difference," he said, adding that the company was very excited to form the relationship with the Institute.
Dr Syed Ghazi, of the Cancer Institute, stated that it was very grateful for the donation and was hoping that other corporations would also donate to saving the lives of many people who are suffering from cancer.
"This is a great occasion… it is the first time in history that a private corporation has thought about the cancer patients and distributed gifts to them," Ghazi said, adding that many of the patients were "probably depressed because of the diagnosis."
He said there is a need for poor patients to have access to CT scans, pap smears and mammograms but most of them cannot afford it.
"I hope more corporations will come forward and help the Cancer Institute of Guyana to fight cancer," he stated. "We have to fight cancer…only if we build a strong partnership with corporations that they would come here and spend some money on people who are suffering," he added.
Ghazi stated that Giftland's donation would assist in five patients receiving mammograms and pap smears.
Around the Web