Amerindian Affairs Minister Pauline Sukhai on Sunday presented land titles to Riverview/Falmouth and Batavia communities in Region Seven and charged residents to diversify into mining, tourism and agriculture.
"You would know that the economy of many Amerindian villages is based on subsistence cultivation. If you begin to limit yourself this way, you will remain within an environment … and within a situation that does not allow you to move faster in your own household, and your villages by extension," Sukhai said at the meeting, according to a report from the Government Informa-tion Agency (GINA).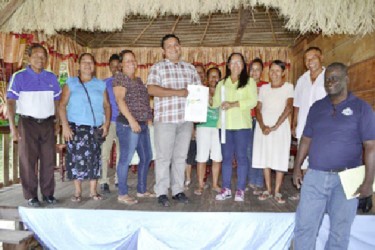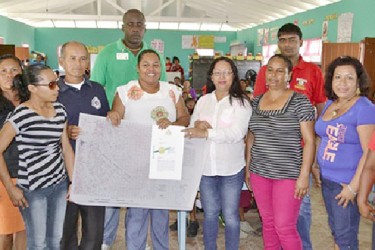 The demarcation process for Riverview has started and Batavia's will commence soon after. Both communities are located in the Cuyuni-Mazaruni area. According to GINA, 26 villages that were not included in the list provided by the Lands Commission of 1968 and 1967 were given titles under the People's Progressive Party/Civic administration. Batavia was granted absolute ownership to 7, 185 acres of land. However, in response to a question regarding the community's ownership of the river, the minister clarified that usually communities do not own the river.
Toshao Eon Boyal said that the presentation of a title was significant. "We have waited a long time for this. I'm indeed happy for this significant achievement. Now that we have our title, we have more control of our land and we can do more things and it's absolute." Meanwhile, Riverview Toshao Melinda Pollard thanked the government for the support her community has received over the past years.
According to GINA, under the Guyana REDD + Investment Fund in 2013, government signed a US$10.7M deal for the implementation of the Land Titling and Demarcation Project. Currently, four communities are undergoing the process with 20 more due to start soon. In 2016, it is expected that 20 other communities will be demarcated and titled.
The Demarcation Project is scheduled to close by the end of 2016 with a projected 45 villages demarcated and titled.
Around the Web