Titawattie Guyanand, the Number 19 Village woman brutally chopped by her husband, who afterward hanged himself, says he had constantly threatened to kill them both during their abusive 30-year union.
Deonarine Guyanand, 59, also called 'Chiney,' took his life on Monday afternoon, possibly with the belief that he had ended hers as well.
Titawattie, 49, is now a patient at the New Amster-dam Hospital. She was chopped across her face, the back of her left shoulder and across her head.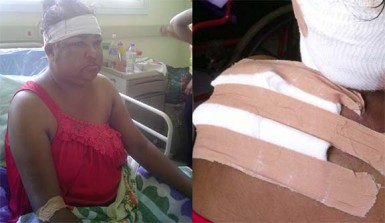 Recounting the attack from her hospital bed, Titawattie said around 3:30 PM on Monday afternoon she was at Punjari Roopram's residence when her husband visited and asked her for $500.
Titawattie cared for the bedridden 98-year-old Roopram. She said she told her husband he had to wait for her to be paid. As a result, she said, the man eventually took her cellular phone and went away. But a few minutes after, he returned and asked her what time she was going home and she repeated the answer she had given him before.
She recalled in a shaky voice that her husband left but returned and kept asking her what time she was going home and after she told him the same answer for the third time he pulled out a cutlass from behind his back and started to chop her. The woman recalled hearing Roopram calling for help but she did not know what happened after because she blacked out and only regained consciousness in the hospital.
Titawattie pointed out that her husband would always threaten that he would "chop off [her] neck and hang himself."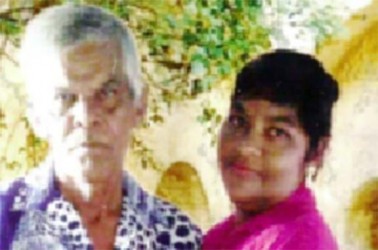 Titawattie said her husband always abused her during their 30 years of marriage. She noted that whenever she was beaten, she would suffer wounds and minor injuries about her body but she was never hospitalised before.
When asked if she ever reported the abuse to the police, she recalled that on one occasion she took him to a probation officer and the police but he went into hiding for a few days and she didn't pursue the matter. However, she had given a statement to the police.
"I would leave and go away for days but his family does come and ask me to go home back. They does ask me how long I gon' live at people place and I does go home back," she also explained.
When asked when the abuse started to become unbearable, Titawattie identified 2007, after her husband got paid off from GuySuCo, where he was a cane harvester. Since then, she said, he would sit at home every day and consume alcohol and when she spoke to him he would become abusive.
Around the Web