Confusion over Mash Day vending continues with the acting town clerk selling spots and the Mayor and City Council's (M&CC) Social Development Committee (SDC) allocating the same spots.
Acting Town Clerk Carol Sooba yesterday announced at a press conference held at City Hall that persons have obtained permission and were issued with receipts signed by Audrey Redwar, a clerk assigned to Deputy Mayor Patricia Chase-Green. She said the receipts bore stamps which were not signed.
Sooba said that anyone who obtains permission to vend outside of that issued by her office and does so will be met by the full force of the law. "The national police will be working with the City Constabulary from Mash eve to the closing of the events," she said.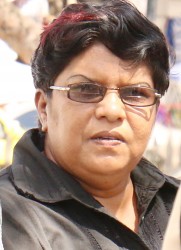 It was also indicated that the names of persons who obtained an invoice from the town clerk's office and paid through the City Treasury will be placed on a list and the police will work with that list on Mash Day.
Additionally the acting town clerk said that the event is an economic activity for the City Council but she observed councillors standing at the Office of the City Treasury directing persons to the mayoral complex for permission to vend, which she said is illegal.
The matter Sooba said was brought to the attention of Chief Constable Foo, who, she stated, said that he did not know how to deal with it. "If it is beyond [him], the police force will intervene…. and if he needs help, he will get help," said Sooba while she noted that advice will be sought from the Commissioner of Police and the Commander of 'A' Division.
She reiterated that the management of the event fell under the authority of the Town Clerk and the City Treasury while the mayor and councillors are responsible for managing policies.
Meanwhile, in a press release yesterday, the M&CC revealed that there was no selling of spots by Redwar, but rather a desk was set up for the allocation of spots on the council's facility free of cost.
Further, the release stated, those who desire to obtain spots on Merriman Mall and Vlissingen Road are advised to visit the Mayoral Complex between the hours of 09:00 to 16:00 to uplift their allocation slips free of cost.
Mayor Hamilton Green had previously announced that the SDC, under the stewardship of Chase-Green, had decided not to attach a charge for spots for persons desirous of vending during the day's celebrations. The M&CC had also blamed Sooba for hijacking the management of the sale of spots and also accused her of acting beyond her capacity.
Around the Web