The Demerara River overflowed its banks yesterday afternoon, flooding sections of the Stabroek Market and along Water Street owing to the current high tide.
According to vendors the tide begin to rise at about 2 pm but the market was closed since mid-day. The closure of the market at 12 pm happens on the third Wednesday of every month, a vendor stated.
When Stabroek News visited at about 5 pm the water had already started to recede but the gates to the market were tightly locked.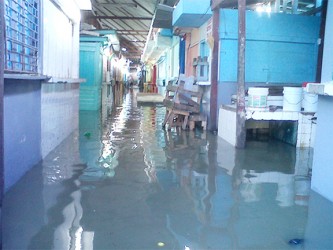 However, a walk around the area observed flooding at the back of the market, but it was unclear if stallholders had suffered any losses since no one was available to comment at the time.
The entrance to Alabama Trading which operates close to the stelling was completely waterlogged. Vendors along Water Street and the New Vendors Mall said the tide is an annual occurrence which might slow business a little but they are prepared for it.
The tide is expected to be higher today.
Around the Web