Airmax Vulcanizing shop owner Randolph Singh had returned to Guyana from New York a few days prior to his death to recover from an illness and according to persons close to him his execution has come as a shock as he had no known enemies.
Singh called `Randy', age 41, of Charlotte Street, Bourda was riddled with bullets as he sat in front of his popular South Road business place which is located between Cummings and Light streets. The business was well known for its vulcanizing and tyre services.
Police said in a press release that around 2200 hours on Wednesday, Singh with two of his employees, including Dilbert Mohamed, 33 years, were seated opposite Singh's business place at South Road, Bourda, when "a man armed with a firearm approached and discharged several rounds in their direction and escaped on a motor cycle"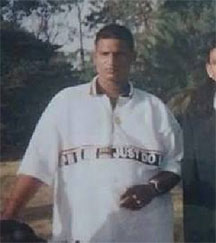 Singh, according to the police was hit about his body, while Mohamed was struck to his right elbow. They were taken to the GPHC where Singh was pronounced dead on arrival while Mohamed was treated and sent away.
Stabroek News was told that Singh lived alone at the Charlotte Street address which is a corner away from where his business place is located.
Efforts to contact his relatives were futile. Just hours after the shooting his mother in law Ishaw Luckhoo expressed shock at his passing on Facebook. The woman stated that Singh "just went back to Guyana from NY last Monday after he was very sick, to feel better". She said that he left behind his wife Nadie, daughter Amanda and son Victor.
"I am very shaken by this news and so are the rest of the family. What I am feeling right now is that your business and your money that you struggle for belongs to the bandits", she said in the short post.
Luckhoo pleaded with all to say a prayer for us in this sad time. She pointed out too that though Singh was with others, he was the only one that died.
An eyewitness related seeing a man walking towards the tyre shop from the direction of Cummings Street. The man said that he approached Singh and the two men who were sitting under a tree across the road from the tyre shop, stopped, calmly pulled out a weapon and began firing. The man was not wearing any mask but according to the source the area was relatively dark making it a bit difficult to make out the man's features.
According to the eyewitness, Singh appeared to be the sole target. Mohammed it was said sustained an injury from a stray bullet. After the firing began he scampered across the road and sought refuge behind a nearby building while the third man escaped unhurt.
Hospital sources said that Singh sustained multiple gunshot wounds to his abdomen and chest.
When this newspaper visited the tyre shop yesterday morning, it was closed and there was a padlock on the main gate. Employees said that the man's relatives were there shortly after the incident but did not return. They said too that they are unaware of any problems the man may have had with anyone.
Contacted, `A' Division Commander Clifton Hicken told Stabroek News that there has been no arrest thus far. Asked if there is anything at the moment that suggests that he had a problem with anyone, he replied in the negative adding that the detectives were presently "on the ground working".
Around the Web