The annual Children's Costume Band and Float Parade graced the streets of Georgetown with 48 different groups of participants last Saturday and Happy Hearts Nursery, Tucville Primary and Cummings Lodge Secondary came out on top.
According to a Government Informa-tion Agency (GINA) press release, the young revellers participated in five different categories each of which was judged on creativity and performance.
Winning the first prize in the Nursery School category were the youngsters from the Happy Hearts Nursery with their band themed "Rhythms of Our People", following in second place was Head Start Nursery with "Celebrating Love and Unity for Mash 2015" and Smyth Street Nursery took third place with its "Royal Invasion".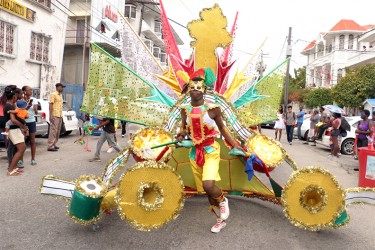 Not to be outdone, the Primary school competitors had their winners in Tucville's "A Fusion of Colours in Sun" which placed first, North Georgetown in second and West Ruimveldt third.
Cummings Lodge topped the Secondary School revellers with their "Educating and Celebrating our Culture Through a Fusion of Music" themed float, leaving St John's College's "Vat Attack" trailing in second and South Ruimveldt taking third place with "Guardian of the Underworld."
The final two categories, Children's Organisation and Regional Competition had the out-of-town participants taking both top prizes.
The Hinterland Scholarship Division's "A Cultural Melting Pot" walked away with the first prize, following in second was the National School of Dance's "Rainbow of Love" and the Craft Production and Design Unit took third spot with "Creative Skills at Mash."
Region Three's "Holiday Fusion" lifted first prize for the Regional category with Region Seven stepping into second place with "One Strong and Proud'' and third spot was shared between Regions Four and Nine.
There were several other Mashramani competitions for students regionally in the categories of Dramatic Poetry, Calypso, Dance and Masquerade with the finals being hosted at the National Cultural Centre on February 12 and 13.
Around the Web