A third restaurant in the Popeye's Louisiana Kitc-hen chain opened yesterday on America Street, with Chairman of Guyana Restaurant Incorporated Raj L Singh promising to open more locations in different parts of the country.
The restaurant, which opened its doors to the public yesterday morning after a ribbon-cutting ceremony, is the largest Popeye's operation in the country, creating jobs for 36 persons. Singh said Guyana Restaurant Inc, which holds the franchise for Popeye's, noted a demand for a third operation of its kind.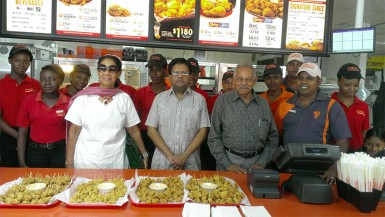 He stated that the America Street location was selected because of many stores and businesses in the area.
He added that the building housing the restaurant is one of the best—if not the best in the Caribbean.
"Popeye's is noted for providing finger licking chicken and I can assure you that this is what you will get, our staff are well trained to maintain high standards," he said, adding that they are looking to expand the franchise at more locations. "We are currently looking for suitable locations," he said.
Finance Minister Ashni Singh urged them to continue to invest and expand their operations in the country, whilst noting that the new facility is a "testimony of continued confidence by international businesses in Guyana's economy."
Around the Web