The Ministry of Agriculture's Mashramani Band 'Cultivating our Land' will cater for some 50 revellers and aims to highlight the idea of growing more locally.
Speaking to this newspaper at the ministry's Regent Street and Shiv Chanderpaul Drive compound on Friday, designer of the band, Olympia Small-Sonaram said "agriculture is all about cultivating Guyana and growing more, so we have decided to use the theme as an effort to aid in cultivating our land and also to bring the idea out to others by letting them know we can bring out what we have in our own country rather than importing because Guyana is so rich."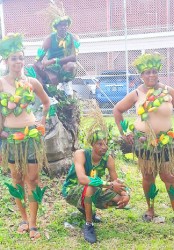 Sonaram said during the process of designing the costumes she tried to use more of Guyana's local agricultural products to show a difference since many of the bands displayed on Mashramani day are mostly made of materials that are brought in from another country.
When it takes to the streets today, the Ministry of Agriculture's band will be displayed by employees from various departments of the ministry.
Around the Web