The North Ruimveldt Secondary School has been promoted to the rank of an "A" list school, GINA said.
It said that the upgrading is also a reward for its performance at the Caribbean Secondary Education Certificate (CSEC) examinations
The school, which was offering 24 subjects, has now added four others, Mechanical Engineering, Physical Education and Sports, Physics and Visual Arts.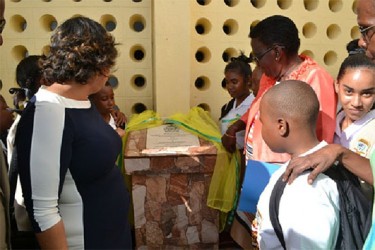 Minister of Education, Priya Manickchand and Chief Education Officer, Olato Sam on Friday unveiled the plaque to commemorate the school's elevation in status. To lift North Ruimveldt to an A List school, improvements had to be made. GINA said that rehabilitation work was done to the classrooms and the sanitary block. Work was also done to accommodate the Allied Arts department which will house the music, visual arts and physical education units. Further, the agriculture science department was also renovated to cater for a component of the syllabus. A Librarian was also appointed.
Students of Grades 7 to 11 were presented with text books for the respective subjects.
GINA said that the school has just one less than its required 38 teachers. There are nine, trained graduates, four untrained graduates, 20 trained and four untrained teachers, two part-time staff members, a music and an electricity specialist. A mechanical engineering teacher is needed.
The school also has the first Interactive smart classroom in Guyana and Manickchand said that similar classrooms will also be installed at the Cyril Potter College of Education and at the Government Technical Institute.
GINA said that in 2010 the Education Ministry began ranking all schools based on their matriculation at the level of CSEC, from A to D with the hope of raising awareness and spurring them to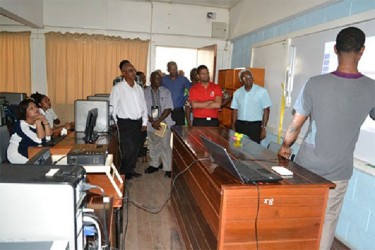 do better.
Sam said that some were of the view that children from the South of Georgetown underperform as compared to children from the North. He said that the school has proven them all wrong. In November 2013, GINA said that the Rosignol Secondary school in Region Five was upgraded to A list status, while the Bygeval Secondary was similarly upgraded in December of the same year.
Around the Web