A Guyanese mother and her two children were arrested in Brazil last week as Brazilian police continue to capture alleged members of a drug ring that transported marijuana from Guyana to Brazil.
According to a report on Globo1.com, Joseph Adams, 25, Fabiola Adams, 28, and their mother, Khumwatte Narine Adams, 49 were arrested on highway BR-401 which connects Boa Vista to Guyana. They had four kilos of marijuana in their possession. Some of the drugs was found in the women's handbags and the rest were hidden inside the vehicle. The trio was charged with drug trafficking and being accessories to drug trafficking.
A police spokesman said that the family was being monitored for about two months after an anonymous tip revealed their involvement in drug trafficking. The family, according to the spokesman, was 'routinely' supplying Boa Vista with marijuana. The police also seized Guyanese, Brazilian and US currency as well as phones. According to the report, the Adamses did not resist arrest. The women were remanded to the women's jail while Joseph who was accused of being involved in a murder in Brazil was remanded to the penitentiary of Monte Cristo.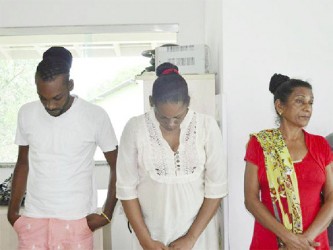 The report said that the police also arrested Brazilians Luiz Alves Costa and Joel Costa Feitosa. The two were arrested with three kilos of marijuana and £279 in a house in Liberty neighborhood, west of Boa Vista. The duo was charged with trafficking in narcotics and being an accessory to trafficking. The report said that the director of the State Division of Narcotics Márcio Amorim reported that for the first two months of this year, 27 people have been arrested for drug trafficking and 44 kilos of marijuana, nine cars, five motorcycles and R$11,000 were seized from the suspects.
"We are acting in order to combat international drug trafficking routes and aiming (to) arrest the 'masterminds' of the crimes," said Amorim.
Prior to these arrests, it was reported that Brazilian police in Boa Vista have seized an additional 15 kilos of marijuana said to be from Guyana and arrested three persons. According to a report in the Folha de Boa Vista, anti-narcotics police raided the West Capital area in Boa Vista on Tuesday and arrested the three suspects and seized about 15 kilos of marijuana, a motorcycle, a cell phone, money, a precision scale and a firearm.
Last week, Alex Teodoro Pereira and Robson Soares Miranda, both 29 years; and Lazarus Pereira de Melo, 48 were arrested. The first two were in a house in Union neighbourhood guarding the drug. Pereira de Melo was arrested in the Santa Teresa neighbourhood.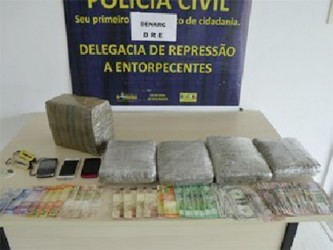 A police spokesman said that trafficking has increased in recent years in the city, mainly the sale of marijuana. The recently seized drug, according to investigators, came from Guyana. The trio are currently imprisoned and investigations are continuing. Further, on February 16, four persons, including two Guyanese were arrested with over 50 pounds of ganja in Boa Vista. Those held by the Brazilian Narcotics Enforcement police are Guyanese Eric Eldon Bobb, 34, and Clive Lloyd King, 38, and Brazilians José Rodrigues Montague, 58, and Marlene Magdalene Romao, 39. King had been sought by the Guyana police in 2013 in relation to an arms bust in Lethem.
Subsequently, CANU Head James Singh told Stabroek News that local drug agents are in contact with their counterparts in Brazil following the arrest of the Guyanese nationals and the discovery of the drugs.
Around the Web