Emphasising that Guyana's tertiary education system needs to be reformed, Vice-Chancellor of the University of the West Indies (UWI) Professor Nigel Harris has urged that a "national conversation" on education be started and promised to assist if asked.
"I think this is a moment, right now… for a national conversation on tertiary education, perhaps on education itself," Harris told attendees at the Rotary Club of Georgetown's World Understanding Dinner, which was held at the Pegasus Hotel on Friday night.
Harris pointed out that while the conversation was needed to gain insight into the problem from the entire populace so that recommendations can be formed and implemented, he was not the one to start it. "This is not a partisan matter, this is a collective responsibility…I believe we have to get together everyone, the private sector, rotary and other groups to think about how do you better tailor tertiary education to fit the skills training and the necessary requirements for 21st century society," he stressed.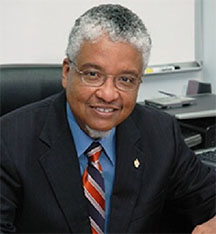 Later, he told Stabroek News that if asked by the requisite policymakers, he would assist, using his vast years of experience in the tertiary education field. "I would certainly be happy to contribute what I could. I could be part of it but I couldn't start the conversation. I have been away so long I really don't understand all the dynamics necessary nor do I feel I have the presence to pull. It has to come from Guyana itself," he added.
He explained that the University of Guyana can model a strategy for improvement from various places, including the University of West Indies, as they formulate periodic strategic plans and work fervently on achieving most of the objectives. He said the plan must be framed to include a range of life, critical thinking and problem solving skills in order to prepare graduates for the fast changing world of work.
"…When I was going to the University in pre-historic times, we prepared students for a single job in a lifetime. Today, students have to be prepared for a lifetime of jobs because they have to keep reinventing themselves," Harris asserted.
Harris, who migrated in 1965, explained this was because of the fast-paced manner in which not only technology was being developed but the world itself.
Further, Harris urged that since the evidence points to a large percentage of adults not having a tertiary education, mechanisms should be put in place to give those persons "a second bite at the apple."
He pointed to UWI's 'Open Campus and Open University' programme, which targets adults desirous of getting another chance at completing their tertiary education.
The professor explained that persons can come and obtain their CXCs and other qualifications necessary for entrance to a university.
Using research statistics, Harris referred to the fact that in the Caribbean today only about 20% of students obtain five subjects or more at the CXC examinations and that over the last ten years only 37% have passed mathematics and 50% English. Against this background, he said from the perspective of even entering the university the cohort of students eligible is limited.
He explained that the 'Open University' programme targets distance learners, giving them the opportunity to study from where they are as they continue their daily jobs.
Harris opined that for all the graduation ceremonies he attends yearly, the online graduation programmes are the most touching. This is because of seeing the satisfaction of the rewards on the faces of the graduates, who are mostly women and who would have sacrificed long hours and balanced families and jobs and school and still perform well. "The most moving one is those of the Open Campus [ones]. Here are people, mostly women, they have families and who are often going online at 2AM and have managed to get through," he said.
"If you are thinking tertiary education, you have to address that adult population… you have to bring them up, even if they might have left school without certification," he added.
He called on governments to invest in distance learning, while pointing out that while UWI struggled to obtain financing for its 'Open Campus' programme from regional governments, it was Canada that has been the biggest financier. "You can't get an investment regionally with the 'Open Campus' [programme]. But [the] Canadian government has invested Cdn$20 million in building distance education. I say, 'Jesus, they are seeing something.' Then I hope that we can see some more," he noted.
Professor Harris lamented that for the University of Guyana (UG) to attract trained personnel and produce well rounded graduates, it needs adequate finances. "Without the appropriate resources, UG cannot attract sufficient numbers of talented academics, it cannot fashion the facilities or construct the facilities necessary to produce the sort of graduates and ideas that can lift Guyana into the 21st century," he stressed.
Prime Ministerial candidate for the opposition APNU+AFC coalition Moses Nagamootoo, who attended the event, echoed Harris' position.
He believes that all governments over the years have paid scant attention to the university and this has been the cause for its falling standards.
"It is a national obligation indeed. He (Professor Harris) has a message for governments and for the university that you don't mess around with your university. You are not going to be able to get that staffing resource of quality if you pay peanuts. The state allocation must be increased," he said.
He believes that the university also has to be de politicised since the board and administration are dominated by politicians
Nagamootoo believes that with a national unified development plan, the University of Guyana will be able to foster and impart cutting edge knowledge to its students, which will see development and growth of society and, by extension, the country.
Around the Web